How to Order Baby Crib Parts, Screws and Replacement Parts
Crib Hardware Resources
I have some tips for finding baby crib parts and replacement hardware for those of you who need to fix a crib as well as those of you with plans to build your own and need all the screws, bolts, rails and other bits and piece . 

There are far too many baby beds that have been thrown in the landfill because of a missing spring, screw or plastic teething rail. BUT there are also too many cribs that have been recalled still in use that are dangerous for babies.
Do Not Use Unsafe, Recalled or Drop-Side Baby Cribs!
Where to Find Baby Crib Parts and Replacement Hardware

Nursery Set
U-Bild Plan

Heirloom Crib
Plans &
Hardware Kit

3-in-1
Transitional
Crib Bed Plan

Crib
Hardware
Kit

Teething
Rails
Go here to find the
parts needed to replace missing screws, springs, barrel bolts and other hardware necessary to assemble your baby's bed.
On this page, parents can post recall notices, want ads for replacement crib parts and pay it forward by sharing information. Feel free to post any information that you may have on where to order parts for popular brands or to share advice on where to find a manufacturing date or the model number of a particular crib.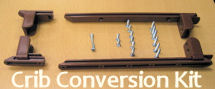 Drop Side Crib Info
Visitors Shopping for Crib Replacement Parts and Hardware Also Enjoyed these Pages:
BEST Crib Mattresses
FREE Baby Crib Plans
Crib Instructions
CRIB PARTS RESOURCE REQUESTS
Do you need a resource for some crib parts? Post your questions and requests here!
PICTURES, IDEAS and SUGGESTIONS from our FRIENDS
Click below to see contributions from other visitors to this page...

Repairing and Recycling Baby Cribs
We have learned that the practice of buying cheap baby furniture only to toss it in the trash after a few years will return to haunt us in a big way. Not only are the garbage dumps overflowing, but we have lost the benefits of the virgin forests that we so carelessly eliminated to make the wooden furnishings. Not to mention that chemicals used to paint, process and make the finished products pretty have done more than their share to pollute the environment and leave us to clean up the toxic waste.
As we know there is no easy answer and we are not going to get a "do over" from what was done in the past. I only hope that parents will consider buying a few inexpensive crib replacement parts to repair or recycle an otherwise safe and useful crib before throwing it in the garbage.
WHERE TO BUY CRIB REPLACEMENT PARTS
Standard size screws, nuts and bolts are as easy as a trip to your local discount store. It's rare that only one of the needed items is necessary to hold the bed together so dig around until you find an identical piece to the one you are missing and take it with you to the store.
GETTING IN TOUCH WITH THE MANUFACTURER
If your crib was made in the last ten years or so, you should have no problem contacting the company who made it. Take care that all used cribs fall within the guidelines of modern safety standards.
Look on the frame of the baby bed to see if you can find the contact number or address of the company that made the bed
If the tags have been removed, refer to the owner's manual if you have it.
Do a search on the internet to see if you can email them to see if they can supply the baby crib parts that you need.
INDENTIFYING YOUR MISSING BABY CRIB PARTS
To find baby crib parts for a specific brand you may need to order your part from the manufacturer. Before you get in touch with them, you will need to have:
The number or name of the piece that you need
The model number and possibly the date of manufacture so that they can help you
This may sound like a lot to go through to recycle a used baby crib. We should think of it as an investment in our baby's future. It is all worthwhile to leave our kids a clean and uncluttered world. After you find the right parts to fix a baby crib, browse other areas of our website to find
Unique Baby Gear Ideas
and helpful information on renovating and recycling both new and old baby cribs.