Metal Crib Parts
by Mendi
(San Antonio, TX Texas USA)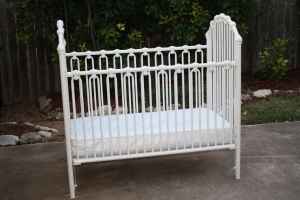 White Metal Baby Crib that I need parts for
Can someone help me find a place to order or buy replacement metal crib parts for a used crib that is about 4 years old that is made of white metal?

The baby bed has a cracked plastic rail glide on the drop side and I can't find the correct replacement parts to fit it. I tried buying the broken guide from a company online but the part that they sent me is the wrong size.



The drop side that I want is a round tube that sits in the guide, not a rectangle shaped tube like the one they had for sale.
Go here to see which
replacement parts for metal cribs are available.
The additional problem that I am facing is that I can't seem to find any label or other indication of the model or brand even though I have looked in all the usual places where model numbers are usually stamped or displayed.
It is in great shape, but I think the plastic guides cheapens it, whereas I know Bratt uses all metal crib parts. Perhaps high end nursery furniture manufacturers make all of their hardware out of metal.
If I fail to locate the correct metal crib replacement parts, I wouldn't mind using a stationary guide that will keep the rail up permanently. I hate to get rid of the crib, as it's so beautiful but I just have no idea as to how to fix it or what to do about finding out the name and brand of the baby bed.
If you know something about the metal baby crib that you see in the picture on this page or if you have any suggestions for a resource that carries replacement parts for metal cribs, please post the brand that you believe the bed to be or contact me using the space below (and PLEASE include your contact information in case I need to get in touch with you!).
Unique Baby Gear Ideas
encourages our visitors to share their resources for metal crib replacement parts, alert us to crib recalls of metal cribs and to consider writing reviews of your baby's bed to make our little community of expectant parents aware of any problems that are associated with different models and brands.