NEW! Boy and Girl Baby Bedding and Crib Comforter Sets
Modern Nursery Bedding Ideas

On this page you will find ideas for baby bedding sets that you can make yourself or buy for much less than you ever imagined as well as elegant nursery bedding collections that will be the crowning glory of your baby's room.

Will you have to spend hundreds of dollars on an expensive crib set? Many moms-to-be spend thousands on high end linens for their little ones and that's fine but..do you
have
to in order to have a cute nursery? Absolutely not! You can buy an inexpensive set and dress it up, make your own or even buy a secondhand baby bedding set in good, used condition on Craigstlist or Ebay. It's up to you.
Take your time and choose carefully as the baby's nursery theme, color scheme and the majority of your decorating decisions ideas will be based on the print and style of the crib set.
Visitors Shopping for Nursery Bedding Also Enjoyed These Pages on Our Website:
Baby Girl Bedding
Baby Boy Bedding
Neutral Nursery Bedding
Whether your decorating style is run from trendy, retro or along the lines of classic favorites; chances are that there is a nursery bedding collection that is perfect for you. If you need inspiration for your nursery, the galleries filled with pictures of professionally designed nurseries are an excellent place to start your nursery decorating project.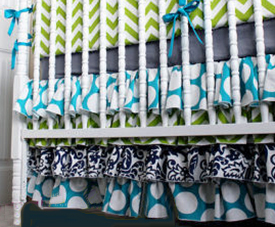 Learn how to make your own custom crib set and get information on selecting
fabrics
. Get estimated yardage requirements in our
FREE baby sewing pattern
resources.
Save money using the free nursery décor sewing patterns
HERE
and then visit our huge gallery of
nursery pictures
where you can see examples of custom crib sets to get ideas.
Crib Skirt Patterns
We also have excellent examples of
baby quilt patterns
and instructions for
how to make your own baby crib duvet pattern
.
Unique baby comforters or crib bedding sets in animal prints are all the rage, so get ready for some wild prints and patterns in true rainforest style!
When it comes to bedding baby down for the night, the basic necessities are simply:
This page is meant to be a guide for a mom who wants more than nursery basics in a
baby comforter or crib bedding sets
. We want to take decorating the baby's crib with a baby comforter or crib bedding to the next level. You can take care of this with your choice of discount crib bedding sets or custom made baby bedding sets for however cheap or expensive you want to go. You are limited only by the selections in your style and the size of your nursery decorating budget.
The trick is to employ unexpected color and unequalled style! Get that lime green baby quilt or better yet get that baby bedding in hot pink crib bedding in zebra print or in a lime green! Baby bedding with hot pink and and lime green may not be your taste, but you get the idea! Let's explore some really cool color combinations in baby comforters or crib bedding sets and set out to do something a little different and modern! Take that unique set of baby bedding and surround it with stuff that will really make it pop!
A common problem in getting just the right look is that many times the bedding sets have names that have nothing to do with the actual motif that's featured in the print. Example: You have a jungle nursery theme in mind but when conducting an online search for jungle crib bedding or African Safari Baby crib bedding, you're not getting the results you want. The problem is that the African Safari baby crib bedding set that you're looking for may have a clever name such as the African Mambo Baby Collection!
To help you out, we have a list of the most popular nursery themes color schemes that will help you gather your thoughts and organize ideas for the baby's nursery.
In my nursery decorating experience the baby nursery bedding set is more often than not one of the first nursery decor items purchased for baby themes. The pattern and theme of the bedding set can also be a unique indication of the parent's personality and their hopes and dreams for their baby.
You can find affordable baby bedding sets. Even though your crib bedding may not be one of the most expensive items you will purchase for your nursery, some of the luxury baby bedding and linens can cost a pretty penny! Discount baby bedding sets from lines that have been discontinued can be found from time to time at cheap prices at baby bedding or outlet stores. How lovely it would be to get lucky and find what you want at the overstock store!
When entering any baby's nursery, your eye is always drawn towards the crib and nursery crib sets. Accessories elsewhere in the nursery highlight the baby bedding sets and expand your unique ideas and themed decisions. The only thing that may literally outshine your linens would be the the nursery chandelier.
There are many collections of affordable nursery bedding. So, you should be able to find the perfect set for your baby rooms that will work with your budget. Aside from cheap nursery bedding sets, you will also find luxury nursery cribsets with an expensive price tag.
Take care in your shopping, don't allow budget worries to take away from the excitement you feel as you create your
baby's nursery theme design
. You will spend many hours within your themed nursery, but that's no real excuse to shrug off fiscal responsibilities.
This can be a special experience without entering into debt. Shop online, scour the discount stores and yardsales for bargains. Look in parenting magazines for pictures of baby boy nursery themes or frilly bedrooms for baby girls or even unisex baby rooms. If you have a set of twins with one of each, gender neutral baby bedding may be the way to go! Use nursery painting ideas and other inexpensive ways to create the nursery decor of your dreams.
Often parents create a nursery that reflects their fond memories of childhood. Today's parents grew up with The Muppets, Dr Seuss and Sesame Street. It's easy to understand why they would want to share these colorful charactors with their babies. Most of these bedding sets deal with the same primary colors as the popular cartoon characters and that makes for easy decorating!
If dad wants his son to play sports kids bedding with all the sports designs in the world are out there. From NFL bedding for kids to cheer-leading bedding for your future cheerleader!
What mom doesn't remember the first time she saw the Disney Classics such as Cinderella, Snow White and Bambi? It's hard to wait until baby's first Halloween to dress her in one of the plush Disney costumes. It's only natural that we head to the mall or one of the online baby discount stores to shop for Disney baby bedding sets to pickup baby items that bring back our own childhood memories.
Do you remember reading the funny papers on Sunday morning? Think how your baby would love a Snoopy bedding set!
The parent that is in the habit of shopping in upscale boutiques for designer infant crib bedding sets will inevitably choose a one of a kind custom baby crib bedding whether for a baby girl or a baby boy. The nursery themes then follow suit with nursery furniture, window treatments and nursery floor coverings and area rugs all purchased with luxury in mind. The custom made baby bedding is most often used as inspiration for the rest of the child's room.
Then comes the contemporary mom that is shopping for baby nursery bedding and organic baby products that are 100% organic machine washable cotton. This parent is concerned with air quality and issues concerning the environment.
Many modern moms love to decorate their baby rooms in an old fashioned, vintage style. To accomplish this, custom baby bedding in vintage toile or damask fabrics may be best.
The more practical parent will make the rounds of all baby bedding avenues available. She will apply herself to comparison shopping for discount baby crib bedding at every wholesale store in town If she can't find a cheap crib bedding set in her price range, she may just buy a pattern and sew the entire set herself! While I'm not calling this parent cheap, to her nursery themes and decor are not just about unique nursery furnishings and accessories or taste. This parent looks at the bottom line and still gets a custom sewn set of crib bedding in a solid color or pattern of her choice!
Items that are usually included with any high quality baby nursery bedding collection are the baby quilt or comforter, crib sheet, bumper pad including the headboard piece, and dust ruffle. Some crib bedding sets do not include the crib sheet. See that you can find multiple crib sheets that will coordinate with your chosen set before making your decision, as you will need to change sheets often. For the sake of baby's safe sleep, many of these items make a beautiful crib, but will need to be removed when baby is in residence. A newborn infant's crib should not be filled with pillows, stuffed animals or any other item that may compromise their safety.
Once you find a crib set your like, do your baby crib shopping and see if the crib you choose will accommodate all the pieces that come with the set. For instance, I have come across some sleigh bed style cribs with solid headboards that are not accessory friendly. If you absolutely want a headboard piece, you may have to have your crib bedding custom sewn for it to fit properly.
The list of additional items that you can pick and choose include matching window treatments, decorative pillows, crib mobiles and diaper stackers. For what it's worth, I have found many baby bedding sets that offer huge collections of coordinating nursery accessories may not be made with the highest quality fabric.
Be certain that you are not sacrificing quality for the sake of having "more". Most baby bedding sets that go as high as 9 pieces fall into the "luxury" category which means the baby bedding is made with premium fabrics and construction. Educate yourself on baby bedding safety. Not all of the items that come with a baby bedding are not necessarily safe in the crib when babies are sleeping there.
I don't ever recommend buying ALL the items that coordinate with your baby's crib bedding set. The baby's nursery begins to resemble the store's display and looks entirely too cookie cutter with no personality. Choose a few of the key items in any collection, then choose or create nursery accessories as you go that will make it YOUR baby's dream nursery!
If your family is indicative of the common modern demographic, you will only get to decorate a nursery for a baby that belongs to you two times. This is not a weekend maintenance project that is approached with an "it's got to be done" attitude. This is a labor of love, hope and best wishes for your baby's future.
Any baby's nursery created by a loving parent is a custom nursery no matter what budget you are working with. Which brings us to the question, does an expensive price tag mean the bedding is better?
The quality of a baby bedding set lies in construction which is easily inspected and the fabric of which it's constructed which is a little more of a challenge and some knowledge of the characteristics of various fabrics is helpful.
You can never go wrong with 100% machine washable cotton. Cotton is the popular fabric of choice in baby crib bedding sets, but not all cotton fabrics are created equally! This is where luxury bedding and the cheap discount baby bedding sets part ways. Feel of the fabric used in the construction of the baby bedding, if it's a good grade of cotton there be a crisp substantial hand indicating a high thread count and an expectation that the set will be colorfast. If you find this to be the case, this is a set of bedding that will wear well and is desirable in your baby's nursery decor.
While cotton may be the fabric of choice, designer baby bedding sets come in many fabrics and patterns. There baby bedding in bright designer silks and cuddly chenille to die for and designer baby puppies nursery bedding for the puppy dog nursery theme! Many are machine washable, some
SAY
that they are non-wrinkle or permanent press, but I would not bet on it. Be realistic, you can look at a crib bedding set and tell. The more heavily embellished with notions or embroidery, the more time will be needed for upkeep. I would personally NEVER put my baby anywhere near a set of bedding that had been dry cleaned! I believe in
GREEN LIVING
style baby gear whenever possible. Now
THAT'S
designer crib bedding celebrity style!
Here's a handy helpful tip, have a special occasion set of baby crib bedding (or two!) plus your everyday set which will blend with your nursery accessories just for days you want your nursery to look like the interior designer just left. Great a great everyday set perhaps in a equal easy care blend of cotton and polyester, that will be easier to maintain by just socking it in the washer.
You've seen the shows where the owners completely redecorate their home to sell? There's nothing wrong with giving the baby's nursery a temporary makeover when company's coming! Let baby hang out in the crib or Moses basket (which I'm sure will have it's own set of fabulous baby crib bedding) while the nursery is arranged in "dress for company" mode. It only takes a minute and the results will be admiration of your friends when they view your stylish nursery! They will wonder how you keep it so perfect, but that's our secret.
There are many brands of baby crib bedding collections from which to choose. With careful planning you can get the perfect fit for your baby's nursery theme.
Please visit us often to find the latest
baby bedding
collections and nursery ideas to put the finishing touches on your baby boy or girl's nursery.