Bella D Este 4 in 1 Crib Parts
by Gary
(Texas TX)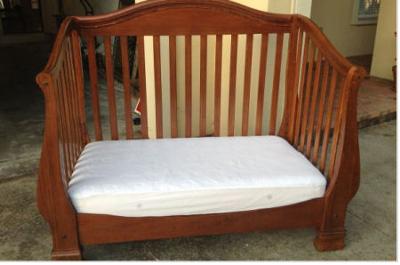 Bella D Este 4 in 1 Convertible Crib
I HAVE A BELLA D ESTE MODEL #0315S00 4-1 CRIB and need Bella D Este 4 in 1 Crib Parts and an instructions manual that includes a parts diagram sheet.


I AM LOOKING FOR A PARTS SHEET MANUAL AND A PLACE I CAN PURCHASE/ORDER SOME REPLACEMENT PARTS.
Go Here to See What's Available
for a Bella D Este 4 Convertible baby crib.
If anyone has any suggestions for a resource that carries Bella d'Este replacement crib parts would you please contact me using the space below (and PLEASE include your contact information in case I need to get in touch with you!).
Unique Baby Gear Ideas
encourages our visitors to share their resources for
Bella D Este 4 in 1 Crib Parts
, alert us to crib recalls and to consider writing reviews of their cribs to make our little community of expectant parents aware of any problems that are associated with different models and brands.