Looking for Storkcraft Crib Replacement Parts, Screws?  Post the Storkcraft Baby Crib Parts and Hardware You Want Here
Parents that are looking for Storkcraft crib replacement parts and hardware can post what they need put their baby's bed together here.  Dads and moms-to-be that want to find resources for missing screws, bolts, rails and other bits and pieces are invited to use this page to share information or to request assistance from others . 

We are not and would never encourage the use of old cribs that are not up to current safety standards but also feel that it would be a shame for a crib to be pushed to the curb for the lack of a bolt.
On this page, parents can post want ads for Storkcraft baby crib parts, share information and offer their help by sharing any Storkcraft baby crib parts that they have on hand.
Do Not Use Unsafe, Recalled or Drop-Side Baby Cribs!
Visitors Shopping for Crib Replacement Parts and Hardware Also Enjoyed these Pages:
FREE Baby Crib Plans
Crib Instructions
BEST Crib Mattresses
Some parents would prefer to order new parts to replace their missing hardware rather than taking advantage of used parts that have been posted on our bulletin board.
You have the option of filling out the form
on this page
to buy Stork Craft as well as Ragazzi, Status and Canwood parts directly from the company or you can call their customer service department using this toll-free number 1-877-274-02seven7. Before you are ready to enter your parts order in the order form or call to order Storkcraft crib parts you will need to have the following information:
Crib Model Number and Name
Color of the Crib's Finish
Where your crib was manufactured (the country)
Date that it was manufactured
The date of purchase
Store name or name of the website where you bought it
This is where the process gets a little tricky and you may need your
crib instructions manual
with the parts diagram to give you:
The crib part code
The crib part name
A description of the crib part


Nursery Set
U-Bild Plan

Heirloom Crib
Plans &
Hardware Kit

3-in-1
Transitional
Crib Bed Plan

Crib
Hardware
Kit

Teething
Rails
Go here to see more bits and pieces
that are available to repair your Storkcraft baby crib.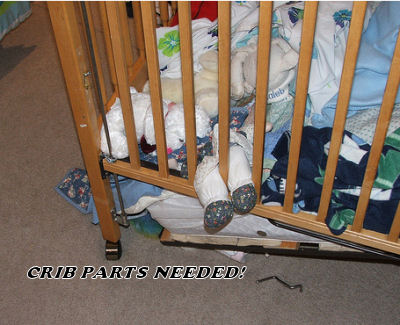 You are most welcome to ask for help in finding or identifying the Storkcraft crib replacement parts that you need by filling out the following form provided by
Unique Baby Gear and Nursery Ideas
.
CRIB PARTS RESOURCE REQUESTS
Do you need a resource for some crib parts? Post your questions and requests here!
PICTURES, IDEAS and SUGGESTIONS from our FRIENDS
Click below to see contributions from other visitors to this page...