NEW Baby Shower Themes and Ideas for Hostesses


We have some new as well as traditional baby shower themes and ideas that will be very helpful to the hostess planning a baby shower for a baby boy, a baby girl or both.  There are tips for decorations, "make ahead" food recommendations, games and favors to reflect color schemes as well as any theme.  Hostesses are sure to find excellent advice for entertaining their guests and making the mommy-to-be feel like a queen for the day.  That's what it's all about; celebrating the birth of a baby and having FUN! Stick around and we will help you find the best theme for a baby shower EVER!
You won't need a professional party or events planner to organize a unique party for the special mom-to-be. Once you make a few basic decisions such as the date, location, number of guests and what your baby shower theme is to be, the rest is easy.
You are sure to find lots of tips and inspiration in the photos of real baby showers shared by our visitors who offer advice on how to get organized using checklists, how to make your own invitations, baby shower favors and gifts. Take a look at the homemade decorations on this dessert table.
DIY Baby Shower Decorations and Food Ideas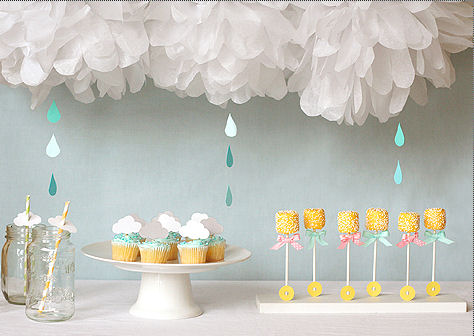 Baby Boy Shower Themes
On this page you will find a FREE printable list of the coolest, most unique shower themes for baby girls and boys as well as lots of unisex or gender neutral baby shower ideas:
Themes by Gender
Baby Shower Ideas for the Fall
Peter Rabbit Shower
Ladybug Theme Baby Shower
Pea in a Pod Theme
Money Tree Baby Shower
Asian Baby Shower Ideas
Sophisticated, New Yorker, Parisian, French or Eiffel Tower Themes
Dr Seuss, Green Eggs and Ham or Cat in the Hat Theme Baby Shower
Organic Baby Shower
Country Western Cowboy Baby Shower Theme, Cowboys and Indians or Cowgirl, Rodeo or a Western Shower Theme
Ideas for Biker, Motorcycle or Harley Davidson theme baby parties
Rubber Baby Shower with Duck Theme or Yellow Rubber Duckie Baby Shower Theme
Polka Dots Party Theme and Decor
Curious George Baby Shower Cake Ideas, Monkey Theme Baby Shower
Camo or Camouflage Shower
Tweety Bird Baby Shower Ideas and Decorations to Make
Dr Seuss Horton Hears a Who Party Supplies, merchandise, favors and ideas
Jack and Jill Party or Coed Shower Themes
Patriotic Theme Party or Shower Themes
Tropical Hawaiian Luau Beach Theme Baby Shower Ideas
Angel Shower
CLOTHESLINE
BABY SHOWER
LET THERE BE LIGHT
FROG BABY SHOWER IDEAS, FAVORS and SUPPLIES
Kung Foo Panda Party Supplies and Decorations
Vintage Pilot Airplane Shower Theme – Military Fighter Pilots, Aviators and Aviation Party Themes
Precious Moments Baby Girl or Boy Shower Theme
Firehouse, fireman or Fire Truck Theme
Nursery Rhyme Theme Baby Shower – Mother Goose, Humpty Dumpty, Baa Baa Black Sheep Shower Themes
Tropical Fish or Scuba Diving Shower Themes
LITTLE LAMB BABY SHOWER
Hello Kitty Shower Theme
King of the Jungle Baby Shower Products and Lion Shower Theme Ideas
Fairy Theme Baby Shower Ideas
Disney Princess Theme Baby Shower
Celebrity Baby Showers
OWL THEME BABY SHOWER
Sports Theme Baby Shower
John Deere Baby Shower, Tractor Farm Shower Themes
Parisian French Baby Shower Ideas
BLACK AND WHITE BABY SHOWER DECORATIONS and THEMES
Baseball Party and Shower Themes
Hunting, Camo or Outdoors Shower Theme (popular with boys)
Umbrella Theme Baby Shower
Football Shower Themes
ALICE IN WONDERLAND BABY SHOWER
Eco Friendly Baby Shower
Apple Baby Shower
Tea Party Baby Shower
NAUTICAL SHOWER THEMES
Pirate Themed Baby Shower Themes. Peter Pan and Tinkerbell can show up, too!
Butterfly Themes and Butterfly Baby Shower Party Decorations
Rock Star Party Guitar Shower Theme – Great for Dads
BUMBLE BEE BABY SHOWER
Holiday Baby Shower
Alphabet or ABC Baby Shower
Halloween Baby Shower Ideas
Teddy Bears baby shower theme room
Cars – Pixar, Nascar you name it!
Prehistoric Creatures or Dinosaurs Baby Shower Theme
CIRCUS BABY SHOWER
Rainy Day Umbrella Baby Shower Themes
Australia Kangaroo Baby Shower Themes
Honey Bee or Bumble Bee Black and Yellow Baby Shower Themes
Rocking Horse Baby Theme or any breed Horse Baby Shower Theme
CHRISTMAS BABY SHOWER

Making a plan and sticking to it isn't the fun part of throwing a baby shower but taking a hap-hazard approach isn't good. Save yourself the uncomfortable feeling of being caught unprepared. Buy a notebook and become an organized party planner. No matter how basic the party or how low the budget, your baby shower ideas should be documented. Make a separate page for every aspect of the shower from buying the cake, the decorations and the
baby shower favors
for your party. You can organize all of your
baby shower ideas
to compliment your baby shower themes with just a little planning and thought. You can be sure that your unique shower themes and ideas will be especially appreciated by the pregnant guest of honor when it reflects the same decor that she has chosen for her baby's nursery.
It's become commonplace for there to be more than one shower for a first time mother. You could find yourself under pressure to dream up some creative baby shower decorations in an unusual theme or color for a small formal party for close friends with only a few guests followed up with a festive baby shower theme for a huge, informal shower.
Bear in mind that for bigger baby showers, there's a need for a constant stream of communication between involved parties so that there's a seamless blending of each individual's baby shower ideas. If you nail down a baby shower theme and a color scheme on the front end that will make things much less complicated, but dedicate yourself to staying in touch with your co-hostesses.
If the baby shower that you are planning is to be a large affair that has more than one hostess the sharing of responsibilities and individual baby shower ideas will be essential. As a token of unity at the very first meeting, have a trendy matching notebook and pen set for each hostess. If you have a favorite baby shower theme in mind, you can buy notebooks with themed covers to see how well your idea might be accepted. See how planning can pay off?
At the first meeting, here are some details that should be covered.
Timing – The date, time and length of the shower
Budget – How much money do you have to work with?
Guests – The number of guests that will be invited
Location- Where the shower will be held
Theme and Scope – The theme will direct your baby shower ideas and scope will probably be determined by the budget. Will there be traditional baby shower food, like snacks and a decorated shower cake or will there be a complete meal?
Baby Shower Invitations - Will invitations be made by phone or sent through the mail?
Decorations – Will the entire area be decorated or will you only be required to come up with baby shower ideas for the serving and gift tables?
Games – Will there be games? Baby shower games might be great for a group of girls, but if it's a couples or co-ed party that includes guys, traditional baby shower games might not be that entertaining. Modern daddy dudes are certainly more involved in the baby process than our dads were, but you might want to come up with some baby shower ideas, games and prizes specifically for men. We don't want to make the boys uncomfortable!
Hostess gift for baby
Now, put simply, decide who will take care of what. Give each participant an equal amount of work and input. Stress that each hostess is encouraged to jot down and share their ideas at the next meeting. If regular meetings are impossible, use the internet to send group emails with pictures attached so that appropriately themed decorations can be put to a vote. The election of one main organizer might be a good idea in case of a tie.
Once the theme is chosen, be prepared to be diplomatic in case one hostess' baby shower ideas don't mesh with some of the other baby shower ideas on the table. Be flexible! Going over baby shower ideas should be part of the fun. Don't be upset if your personal vision of a classy, elegant occasion taken right off the pages of a Martha Stewart baby shower guide is shot down for a hip and trendy affair with pink and purple baby shower decorations or even a casual picnic
brunch baby shower
with food served on paper plates!
Not even the most unique, fairy tale baby shower is worth the loss of a dear friend. If it takes your being the bigger person to keep the shower planning train on the tracks, smile and do the best you can. Save those fabulous baby shower ideas for later and knock their socks off when it's your turn. Be a team player and work with the agreed upon baby shower ideas to make your particular portion of the shower a masterpiece.
If the baby shower is to be a party for couples, there are certain shower themes that will be much more appealing to men. Find out which of dad's hobbies might be worked into a themed party. If there's something he's passionate about, there's your theme. Every man has something that he blows more money or spends too much time with, play on that! It's ok for the theme of the party to be about the parents' hobbies and personality traits! Baby isn't here yet and mom and dad are the guests of honor. It's perfectly acceptable for the theme to be something other than teddy bears and little yellow duckies and bunnies.
If dad's at the shower, tradition is already out the window so you might as well make it easy on yourself and have fun with it. If dad's into building choppers or remodeling classic cars so be it. Take the theme and run with it so long as mom and the other hostesses are in agreement. Warn the grandmothers and grandfathers ahead of time so that they are prepared for a shower theme that they might consider unusual as baby showers and parties were two completely different entities back in their day. The hip crowd of today doesn't consider anything unusual about combining baby showers and bridal showers and that would have been pretty rare a couple of decades ago. The rule of thumb is there is no hard fast rule so long as the mom and dad consider it an appropriate celebration of the birth of their baby.
For more information on new baby shower themes please subscribe to our baby blog!