Jardine Madison 4 in 1 Crib Instructions Manual and Parts Diagram Download
by a
(Indiana)
I found a Jardine Madison 4 in 1 Crib Instructions Manual and Parts Diagram Download with the following contact information:

The toll free number listed in the assembly instructions manual for Jardine customer service department is: 1-800-295-1980

The email address listed in the manual for Jardine customer service department is: csr@jardcoent.com

Jardine Enterprises physical mailing address is: Customer Service Department No. 413
12345 Albert-Hudon Boulevard, Suite 100
Montreal, Quebec
Canada H1G 3L1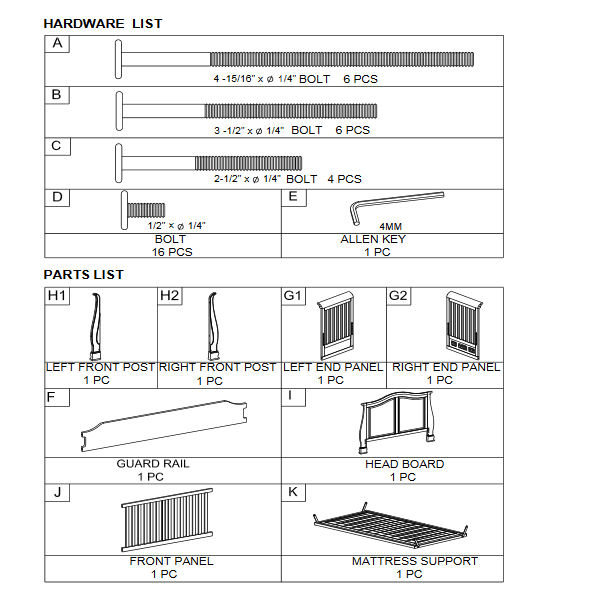 Go here to see what is in stock and available for a Jardine baby crib.
As to whether or not any of the methods of contacting a Jardine Enterprises customer service representative are current or not is anyone's guess; are they even in business anymore?
Here
is a copy of the Jardine Madison 4 in 1 crib assembly instructions manual online. Every page has been scanned and everything seems to be there including:
1. the parts diagram
2. step by step assembly instructions
3. warnings and safety precautions
from what I can tell.
They state that if you have a missing part that you can contact their customer
service department and they will send a replacement FREE of charge. I am not sure if they offer this service currently or for how long after we buy their cribs; call them and see.
If you have no luck getting a reply using Jardine Enterprises Customer Service Department's toll-free number or any of the other methods listed above, please let the webmaster of
Unique Baby Gear Ideas
know so that the information can be posted.