Lovely Long Maternity Dresses for a Photo Shoot
Wear Our Picks for Pictures or for Special Occasions

We have tips for choosing ethereal, lovely, long maternity dresses for a photo shoot that can then be worn for special occasions after the pictures have been taken depending on the style.  On this page we will offer recommendations as to which style is best for those who would like to get the most out of their investment as well as expectant mothers that only want props that will achieve the most dynamic, dramatic portrait regardless of the cost.

Photography and thriftiness aside, the elegant gowns in our roundup are tasteful yet sexy, flattering yet comfortable enough for the mother-to-be that will be posing for often, "once in a lifetime" portraits.
A hot, sleep deprived pregnant lady that is clearly suffering from a poor wardrobe choice is a professional photographer's nightmare. However, a naturally glowing lady dressed in a stylish gown that showcases her pregnancy is a dream come true. We compiled our list of Top Picks with that in mind.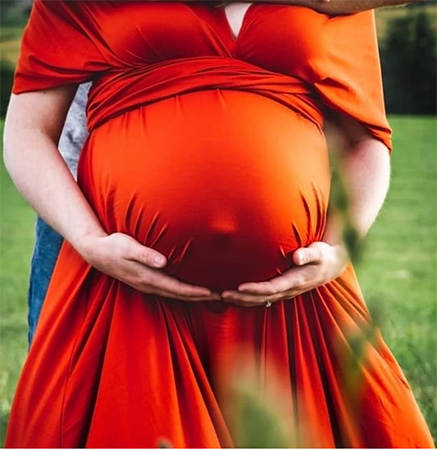 Visit
Divine Bridal Shop on Etsy
to see this dress and others for your fall photo shoot.
This long, elegant dress is perfect for those who wish to enhance their baby bump, not to expose it. The teal color is the perfect complement for fall foliage and the bell sleeves keep any chill under control. The dress fits in such a way that the portrait serves as a testament of reverence regarding the pregnancy. Mermaid styling and an extended train offers value as a dramatic photo prop yet it can later be used as a special occasion dress.
How to Choose the Perfect Long Maternity Dress for the Pictures You Want
There are other considerations when choosing a long maternity dress for a portrait or special occasion beyond sheer comfort.
Season
Style
Color

Always consider the expected temperature of the day the dress will be worn especially if the photographs will be taken outdoors. Example: A long maternity dress in lightweight fabric with a bandeau top is perfect for a beach photo shoot in warm weather. Remember, style dictates not only the look of the photos but if the dress can be warn once the shoot is done. The temptation to buy a sheer, sexy dress that reveals the charm of pregnancy may be difficult to resist (and by all means, don't if money is not an issue) but the occasions when it can be worn after the shoot are limited.
See Top Maternity Photo Tips HERE
This versatile gown with its soft, flowing fabric is both comfortable and attractive. Even the lightest breeze can ruffle the skirt making for a beautiful shot. The convertible styling will accommodate a lady's changing size with ease and is appropriate for weddings and other events.
A maternity dress with a long train is thought by many to be one of the most attractive due to the visual drama it adds to the setting.
Visit
JandLDesignsboutique
to see this long pink maternity gown with ruffles, leg split and a plunging neckline as well as others for your winter holiday photo shoot.
A long velvet train is lovely for a winter photo shoot where a "tossing" train made of chiffon that lifts and trails behind is truly a sight to behold and lightweight for warmer weather. However, that unique characteristic limits the uses of the gown to that of an utterly stunning photo prop. Pregnant ladies don't find the prospect of dealing with trains at baby showers or gender reveal parties particularly appealing. And, since every woman should have a pregnancy portrait made wearing a dress with a long flowing train blowing in the wind and not feel guilty about it, there are dresses with removable trains. After all, how many opportunities do we have as adults to look and feel like a fairy princess?
Introducing the white dress any bride will adore. The movement of the fabric presents a dynamic juxtaposition of the seriousness of impending parenthood and lightheartedness of enchanting clothing blowing in the wind. Of all the long maternity dresses for a photo shoot that I have recommended this one is my personal favorite.
Holiday Maternity Dresses for a Photoshoot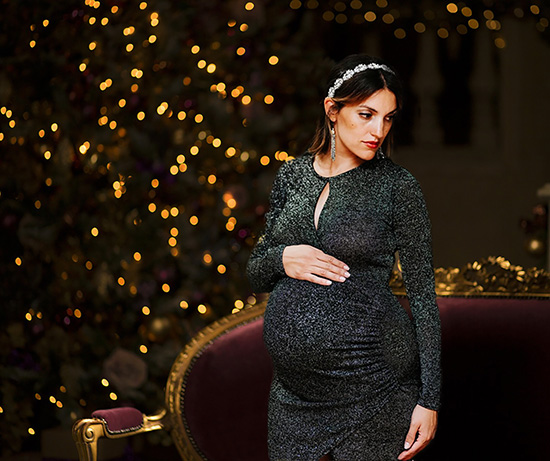 Visit
TiffMarieMaternity
to see this gorgeous holiday maternity gown for a photo shoot or a party that has just the right amount of festive "sparkle".
Thanks to SilkFairies and MiaDreamDesign for permission to share examples of beautiful maternity photography and for continuing to offer dreamy, yet affordable maternity dresses that make tired, sleep-deprived pregnant ladies feel like royalty.
Have a Gorgeous Maternity Dress
Do you have a photo of yourself wearing a gorgeous maternity dress? Share it!
What Other Visitors Have Said
Click below to see contributions from other visitors to this page...

Cute Holiday Maternity Outfits for a Photo Shoot Not rated yet
Here is an idea for a cute holiday maternity outfit that will stand out at the casual party or baby shower and still be comfortable enough to wear for …