Hopkins Baby Crib Parts
by LCS
(Massachusetts, U.S.A.)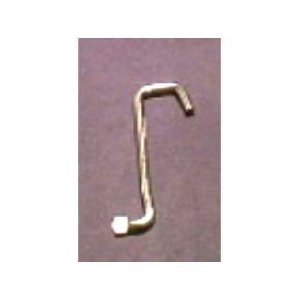 Spring Handle Clip SH 20 Hopkins Baby Crib
Where can I buy Hopkins baby crib parts? I need several for a Hopkins Crib that was purchased in 1982. I need the 4 Spring Handle Hooks that are necessary to attach and hang the box spring or mattress support to the frame. The part number of the style hook is SH 20.


I found one provider that offered the replacement part but the price that they are asking is very expensive for a mass produced item.
Go Here to See What's Available
There would be no tooling or welding involved; It is just metal stock that is bent and threaded on one end. The end that is threaded inserts through a hole in the crib mattress frame and a nut is applied to secure it in place.
I wondered if you or one of the visitors here could put me in touch with another manufacturer who produces
parts for a Hopkins crib
.
If you have questions please refer to the pictures that I have uploaded. I included one of the replacement part and another to show how it fits into the frame of the crib mattress.
This particular Spring Handle Hook is one of only two styles that is used on most baby cribs.
Surely, there has to be more than one manufacturer who produces this particular part but the resource that I mentioned earlier, Products America, seems to have monopolized this market and their prices for Hopkins baby crib parts most likely have a mark 200% up markup.
If anyone has any suggestions for a resource that carries these hooks can you please contact me using the space below (and PLEASE include your contact information in case I need to get in touch with you!).
Unique Baby Gear Ideas
encourages our visitors to share their resources for Hopkins crib replacement parts, alert us to crib recalls and to consider writing reviews of these cribs to make our little community of expectant parents aware of any problems that are associated with different models and brands.