How to Paint a Crib for the Baby's Nursery
Pictures of Painted Cribs and Crib Painting Tips

Many parents expecting a second baby want to paint a crib to match the new baby bedding set and nursery décor.  Parents consider painting a crib for many reasons.  Some tell me that the stain that was perfect in a boy's room is too dark for what they have planned for their baby girl's nursery and they want to change the color.   
A couple recently told me that they bought a baby bed at a yard sale for less than $20 that had not been in a recall but the white finish was showing stains and signs of wear. And then yet another visitor told me that she painted a crib because she was bored and wanted a change.
I hope that the pictures of DIY painted cribs in the beautifully decorated nurseries that other parents have uploaded will hold some do it yourself crib painting ideas that will help you kickstart your project.
A pink painted crib, a pink pouf, new nursery window treatments and a few throw pillows are all that is needed to give a
baby boy nursery
a totally new look.
There is no need to change the paint color of the walls even if they are painted baby blue.
How Long Will it Take to Paint a Crib
Whether painting a crib takes a weekend or a week depends on how much sanding and prep work is needed to smooth the surface and how many coats of paint will be required to cover the old paint color. For example, if the old color is dark and the new color is light you should count on applying at least two coats with time allowed for drying between each coat.
Crib Painting Safety and Using Crib Safe Paint
Here are some tips that will help you to be 100% sure that you are buying a paint that is VOC free and won't off-gas into the air your baby breathes and that it is completely and totally free of ALL toxins that can either be released into the air or be ingested should your little one chew on the crib which we all know will happen at some point. Even if the product is advertised as non-toxic do your homework and read the MSDS carefully to see if there are ingredients that are potentially harmful.
Crib Painting Ideas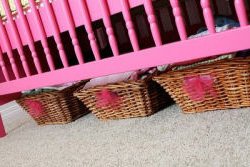 I have always wanted to spray paint a crib pink or turquoise blue or some other unexpected color. White will go with anything and a neutral wood stain doesn't show stains but face it; they just are not as eye-catching as they could be.
Check out this
baby girl's crib painted pink
in this pretty nursery decorated in a pink and green color scheme.
You have to wonder why more parents don't buy used baby beds when it's so easy to paint a crib with stunning results.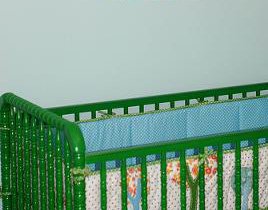 The crib in this little boy's nursery pictures is the centerpiece of a room decorated in an owl theme but the color would be suitable for many
baby nursery themes
including a John Deere Theme and others.
The Easiest Way to Paint a Crib
The easiest way to paint a crib with turned spindles like a Jenny Lind crib or any other style with carving or pretty much any kind other than a piece with clean, straight lines is to use spray paint. They can be painted using a brush but the project will take longer.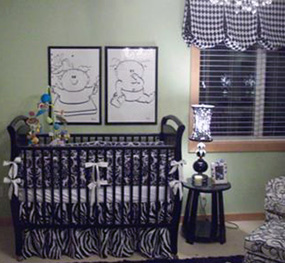 A mom expecting boy and girl twins bought two used cribs for less than the price she would have paid for one new one to save money.
The
neutral nursery
has one crib that mom painted white for her baby girl and one crib painted black.
Some parents prefer to buy or build and paint a crib that is unfinished.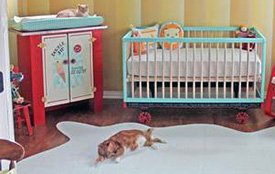 This crib is an unfinished Kalon Caravan Crib that is made with sustainable wood. It was purchased for a baby boy's nursery and hand painted in a turquoise blue and white color combination.
A
Circus Nursery
is the perfect setting for a crib painted in bright colors.
The circus theme is a very popular
baby boy nursery theme
because of the animals and bold colors.
I hope that the pictures of
baby girl nursery themes
, baby boy and neutral nurseries will give you some ideas for how to paint a crib safely and attractively and that you will take a moment after completing your DIY painting project to stop by
Unique Baby Gear Ideas
and upload pictures of your work.