3 in 1 Aspen Crib Parts Available
by sarah
(lubbock)
I have a lot of 3 in 1 Aspen Crib Parts available for anyone that needs need parts for their 3-1 crib.

I have all of the parts that are necessary for proper assembly except the lower drop rails. If I could find replacements for them I would be in business.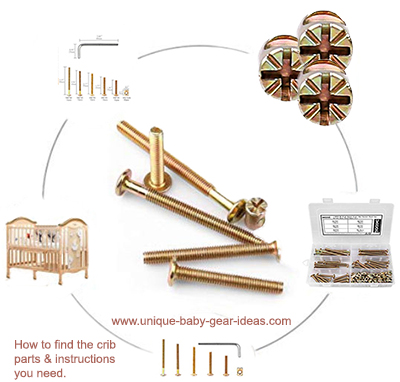 Go here to see
parts kits available for the Aspen crib as well as other brands of nursery furniture including bolts, screws, springs, etc.
Unique Baby Gear Ideas encourages our visitors to let mommies-to-be know about the replacement parts for a 3 in 1 Aspen crib that Sarah has available for someone who needs them
and when you contact her please don't forget to mention that you found this ad on www.unique-baby-gear-ideas.com
using the comments forms located on this page.
If you have any questions regarding the parts you can get in touch with me using the space below that has been provided by
Unique Baby Gear Ideas
and PLEASE do not neglect to include your contact information in your email or to provide a phone number or email address so that I can respond with answers to your questions as quickly as possible.