Nylon Lock Nut for a Vintage Cradle
by Jan St
(Buffalo, NY. US)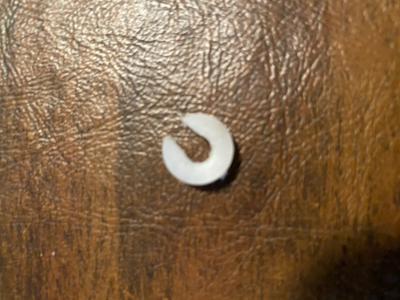 nylon lock ring nut for a vintage 1980 baby cradle
Wondering where I can find nylon lock nuts for a vintage baby cradle like the one in the photo above. The diameter of the locking ring nut that is needed for our 1980 cradle has a diameter of 7/16 inch with a slot size of 1/8 inch.

I have taken the one that I have (seen in the pictures) to hardware stores and searched online without any success.

Go here to browse the inventory of nuts and bolts available for baby cribs.

If anyone has any ideas where I might find the Nylon Lock Nut for a Vintage Cradle that I need to complete our crib assembly or maybe some locking nuts that they are willing to share, please let me know using the form below that has been provided by Unique Baby Gear Ideas.

Join in and write your own page! It's easy to do. How? Simply click here to return to CRIB PARTS REQUESTS.