Bright Future Melanie Crib Parts
by Sylvia
(South Chesterfield, VA Virginia USA)
I need some Bright Future Melanie crib parts. I have the Bright Future Melanie White crib Model #343-5591 that was bought by my dad for my baby (21 years ago)from JC Penney.

I am in need of both the upper and lower plastic guides.


I thought I had saved everything so that I could pass the crib down to my son but now it appears that I am missing some parts.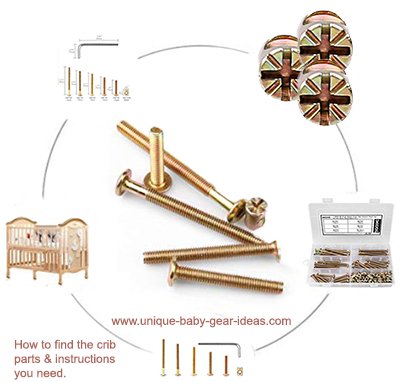 Go here to see if the
Bright Futures parts you need are in stock.
I have contacted the company only to be informed that my crib has been discontinued, that it had a recall item (which was immediately sent to me)and then referred me to Products America.
I have been trying to contact that company by telephone since yesterday using all 3 phone numbers on your website and each phone number comes back as "the number you have reach is disconnected or no longer in service".
I have even sent them a fax and an email with no reply.
Does anyone know where I can buy the upper and lower plastic guides parts ASAP?
If anyone has any suggestions for someone that may offer plastic Bright Futures crib replacement parts, please contact me using the space below (and PLEASE include your contact information in case I need to get in touch with you!).
Unique Baby Gear Ideas
encourages our visitors to share their resources for discontinued Bright Future crib parts, recalls and to share reviews of cribs to help make parents aware of any problems that are associated with different models and brands.