FREE Baby Crib Plans & Woodworking Crib Design Plans
Parts and Crib Hardware Resources

Woodworking parents or grandparents searching for free baby crib plans are invited to check out the resources that we have listed on this page and to share any advice for building wooden cribs or the best places to find parts and hardware kits with those of us new to the idea of building homemade furniture.
Anxious woodworkers in a hurry that want lots of selection can go online and pay to download more baby furniture plans than you could build in a lifetime and get the baby crib hardware at the same online store!
Before you rush to key in your credit card number, take a moment to be sure that you are getting blueprints for baby cribs and furniture that be in compliance with the United States Consumer Product Safety Commission guidelines and please read our
disclaimer
before proceeding.
We have put together a basic list of woodworking tools will be needed to build a wooden crib.
Antique reproductions are very popular with many new parents but some prefer more modern styles. There are often free baby crib plans and other building projects featured in monthly woodworking magazines that you can modify to fit the style of your baby's nursery.
Lucky for them that not all homemade wooden crib plans are in vintage or traditional styles. There are more choices in crib designs than ever before as more and more young men and women pick up woodworking as a hobby.
How to Build a Modern Crib for a Contemporary Nursery
As you can see from this very modern crib built buy a proud woodworking dad; there are very attractive designs suitable for the modern nursery.
Baby Crib Parts
Crib Instruction Manuals
Free Baby Cradle Plans
Some parents prefer to build a bed with a classic, simple design with few moving parts.
They feel that this type of project is not only easier to build but safer for their child.
Be sure that you will not be building your heirloom baby bed from defective or even downright dangerous baby crib plans. Check the specs for proper slat spacing and post height, you should check to see that there are
crib mattresses
available that will safely fit the bed when it's done. Be certain to check all measurements and specifications of the wooden baby crib plans beforehand.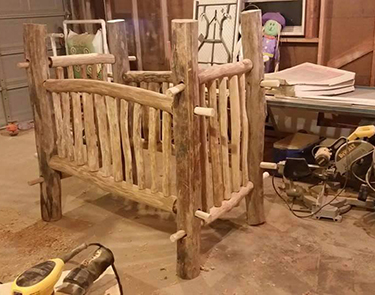 Rustic Natural Wood Baby Crib
made by Dad for his son's hunting themed nursery.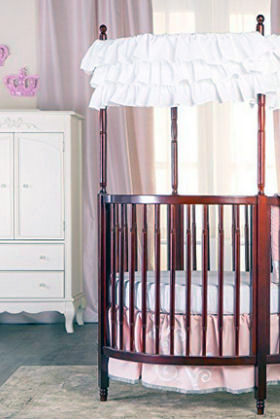 Free instructions, tool and material list perfect for those who have their heart set on a canopy crib for the baby's nursery.
What to Look over in Free Baby Crib Woodworking Plans
The best thing about a set of free baby crib plans is that they are well,
FREE!
If you are an advanced woodworker with loads of experience in buildng furniture, sketchy instructions may work just fine. However, the amateur do-it-yourself carpenter with limited skills, a lack of plans for an elaborate design could spell disaster.
If you run into problems working with
free baby woodworking patterns
the best thing to do is post a query in a woodworking forum and hope for a response. The support that comes with a bought pattern can actually save you money.
Wood and supplies are expensive and time is money, too. Be realistic about your carpentry skills and the amount of assistance that you may need. If you have your heart set on a particular style of baby crib that you have a set of free baby crib plans for, then become acquainted with some of the woodworking forums and message boards online.
You might want to get friendly with the guy on your block with the woodworking shop in his garage while you're at it! Free baby crib plans don't always come with the greatest instructions in the world! The crib has the largest decorative footprint of any item in the nursery, so you want it to be nice.
WHAT SHOULD BE INCLUDED WITH THE BABY CRIB PLANS THAT YOU BUY OR DOWNLOAD
Most baby crib plans come with easy to follow instructions that will carry you step by step through the woodworking process. You may want to touch base with other carpenters or hobbyists who bought or used free baby crib woodworking plans from your source. They will share their experiences with you as to whether the baby crib plans were suitable for beginners or were geared toward advanced woodworkers. This is where customer reviews come in very handy. Maybe they will invite you to come to admire their finished baby crib or baby cradle and you can see how they fit into their baby's nursery theme.
WHAT ABOUT SPRINGS AND OTHER BABY CRIB HARDWARE FOR THE BABY FURNITURE I'M BUILDING?
You will need baby crib hardware, springs and plastic baby crib teething rails come in pretty handy, too. If you don't have the tools to hand the wooden baby crib spindles, you can even buy those at the same place as the rest of your baby crib hardware! Most reputable companies that distribute baby furniture plans include basic baby bed replacement hardware. For instance with most baby crib plans you would get springs, baby crib hardware for the drop side gate and plastic rails to protect the wood from teething babies.
Most plans that you buy either offer sources for baby crib hardware or they come with the kit along with the blueprints. The only items you will provide are the necessary pieces of wood, the crib mattress and finally the baby crib set and baby bedding of your choice. If you plan to use free baby crib plans, take care that you have a reliable source for all the baby bed hardware such as the baby bed mattress springs or other necessary crib parts that you need.
WHY GO TO THE TROUBLE TO BUILD a CRIB?
Using baby crib plans set you free you from the run of the mill baby beds you see in the discount stores. If you have an odd shaped nursery or have special needs in a baby bed such as an over-sized baby crib for twins, triplets or quads, you may be able to adapt the plans to suit your situation to a
T
! For instance you can
Get plans for building a round crib. If you don't want to spend lots of money on a luxury baby crib, get a set of round crib plans and make your own designer baby bed! This project is for a skilled woodworker with some tools on hand, but what a coup once you are done!
Use every inch of available nursery space with corner crib plans! You may have to have some triangle shaped baby bedding and comforters made, but corner crib plans are the only way to get this space saving style of crib that I've found.
Make your own convertible crib with some convertible crib plans. This is a cool way to get lots of bang out of your buck! When your little one outgrows the baby bed, with a few adjustments the same crib that he or she used as an infant can be used for many years.
For a parent searching for a traditional crib design standing the test of time, a set of sleigh bed crib plans will get the job done. The sleigh bed has been around for a lot of years and never goes out of style. That's the kind of woodwork I like to do! After all if you are making an heirloom piece, you don't want future generations to think that your handmade baby furniture is too ugly or dated to use!
You can custom finish your baby's cradle or bed to blend with some antiques that have been passed down through your family or paint it in neon colors for fun! By building your own baby furnishings, you have the opportunity to do something cool, unique and different! The best part is that someday your child will be able to tell their babies all about you and that
YOU
built that baby bed or the
hand made baby cradle
for them and you did it all by yourself. Be sure to put the original baby crib plans in the family time capsule or baby memory box and to put the name of the building and the date that the baby crib was finished!
RESOURCES FOR FREE BABY CRIB PLANS
Here's the list of resources for FREE HANDMADE WOODEN BABY CRIB PLANS!
I've noticed that many woodworking sites that had in the pst offered free wooden crib plans have started to charge a small fee for their downloads or have taken the instructions down completely. If one of the woodworking plans that I have mentioned on this page are no longer available, please let me know so that I can remove them from our list.
Please, feel free to browse
Unique Baby Gear Ideas
to find lots of baby craft instructions, woodworking projects and baby nursery ideas.
Disclaimer: The contents of this article and website on homemade baby beds and free blueprints are for informational and entertainment purposes only and should not expert advice from a professional safety expert or carpenter. You should always make your own choices regarding your child's safety based on the advice of your chosen professional. Unique-baby-gear-ideas.com can't guarantee the quality, level of correctness, accuracy or timeliness of the material or information provided within this site and can't be held responsible. By your use of this website and the information thereon, you indicate that you willingly agree to the terms of use as indicated in this disclaimer. Unique Baby Gear Ideas is to be held harmless regarding the safety of any projects, plans or instructions mentioned on this site or in this article. Please, to not attempt to build your own baby furniture unless you are an accomplished woodworker that is aware of and can adhere to all safety rules and regulations as
you
and you
alone
will be held responsible for making it safe for your little one holding this website completely harmless.