100s of New Baby Boy Nursery Themes Ideas and Room Photos

We have 100s of the most fun and most popular baby boy nursery themes and nursery ideas that are perfect for parents expecting a son in one easy to use location. Simply choose a baby room theme and then move on to find even more nursery decorating ideas in our gallery of the latest nursery pictures featuring adorable masculine designs! 
Get ready for the adventure of decorating a nursery for a baby boy which can be loads of fun. As an example, a dad who was an athlete as a kid might choose a room theme that will showcase his achievements in sports.
Other themes that are in the Top 10 boy nursery themes at the moment are construction themes where the room is decorated with dump trucks, rustic hunting cabin themes that bring the atmosphere of your favorite deer camp home or surf and underwater themes full of fish and ocean themed decor.
The characters and colors of our favorite storybooks are a favorite in themes for a boy's room.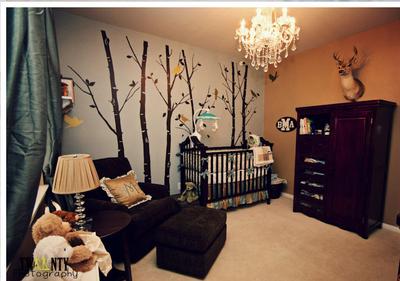 Baby Boy Nursery Pictures
The list of cool bedroom themes for baby boys is without end because so many occupations and activities ranging from sports to the saving the jungles and rainforests of the world lend themselves so beautifully to decorating a baby boy's room.
The themes that we have listed on this page are some of the TOP baby boy nursery ideas preferred by moms and dads. If you don't find exactly what you're looking for in this list, check out our listings for gender neutral, baby boy nursery themes and others on our main room theme listings page.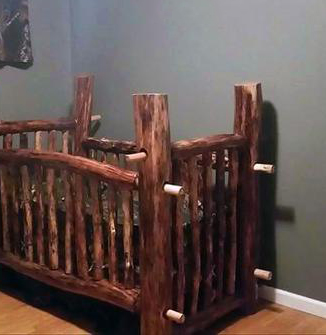 Rustic Baby Boy Nursery Pictures HERE!
Our list of modern baby boy nursery themes should kick off your nursery decorating project in a big way and if you prefer to look at photos, please take a look at our gallery of
baby boy nursery pictures
and
boy baby bedding
sets.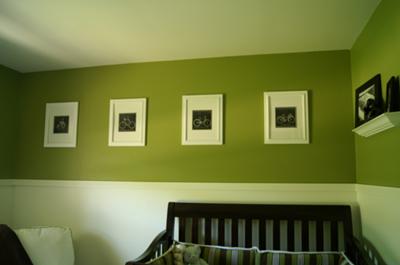 Vintage Bicycle Baby Boy Nursery Ideas
We do our best to provide rare, unique themed suggestions as well as traditional or classic themes that will give you plenty of room to personalize your boy's room. Our thinking is that to first select a style of decor will simplify the nursery decorating process. A theme can serve as a guide towards the ultimate goal of designing the very best bedroom for your infant.
Contemporary and modern baby decorating trends tell us that pretty much anything goes and that there's little need to stick so closely to classic nursery designs for boys that have been used over and over for decades. The news is that bold colors and wild patterns are cool. If you love the idea of a traditional
baby blue nursery
filled with cute baby motifs then by all means include them in your decorating ideas for a dream nursery. But, you may find that even the classics have had a makeover into more trendy colors, shapes and designs.
Bold reds and dusty sage greens are just as masculine as shades of blue if not more so. Experiment with some interesting color combinations for your baby boy's decor. You may find a trendy new color scheme that's unusual for most baby boy nursery themes but there's no harm in trying something new.
One of the most frequently asked questions I receive from parents expecting a boy is "What about pink?" Is it acceptable to include pink in the color scheme of a baby boy's room?". My answer is that there are no definite rules about the inclusion or exclusion of pink when decorating a room for a boy. Tradition dictates that certain shades of pink such as pale, pastel pink more often used in a baby girl's room but there are other bold shades of rose or coral that will work beautifully with many themes.
There are salmon pinks that are all boy and once you bring in earth tones they will be fine for a baby boy nursery theme. There many pastel colors that can be made more manly when against chocolate browns and earthy greens! Pink and brown and blue and chocolate brown are just a few examples of stylish color combinations.
Both offer excellent opportunities to experiment with a unique color scheme in your boy's bedroom design.
There is no "best" paint color for a project, you just have to use what works best with the bedding fabric pattern. If you picked bright abstract or polka dot print bedding sets, take it to the store and get a match.
Modern design is super in most baby boy nursery themes. Just be sure that all accessories follow your dedication to this style of decor or the effect will be confused and disjointed. Eclectic bedrooms are one thing, confusion is another.
Your reward for staying the course will be the slight pause when an impressed friend enters your baby boy's nursery for the first time.
Parenting for the first time can be somewhat less than relaxing. There are so many different situations that might pop up where a DIY or earn as we go frame of mind is necessary. Certainly the safety and care of your precious baby takes precedence over any issues pertaining to nursery furniture or choosing the best wall paint color for a nursery. This being said, a comfy haven where mom and baby can rest their weary heads in peace and safety is such a blessing.
The theory has been floating around for years that certain colors have a direct effect on our moods. Now there's evidence that some colors like yellow make babies cry more than others.
Please make plans to visit us often to be among the first moms to hear about the latest in baby boy decorating ideas and nursery themes.