Baby Cribs, Replacement Parts Assembly Instructions
DIY Crib Mobiles 

Is it safe to buy used baby cribs or build your own baby bed to save some cash?  If not, which crib should I buy?  These are all questions that new moms and dads ask and they need answers before their little one arrives.  The number of brands and styles of baby beds alone is enough to make their heads spin at a time when they should be happily anticipating becoming parents for the first time and enjoying picking out colors and themes for the nursery.  

Do you feel confused and overwhelmed with the wording of crib reviews and would just like to know which one is best whether they be traditional, round or corner cribs?
What Baby Cribs are Safe?
This page
has excellent information on crib safety. When it comes to cribs; there is no room for error. Safety is the primary concern, comfort is a secondary consideration and style is next.
Once safety requirements are met, parents can make their choice out of the best rated brands and styles according to taste or make a determination as to which one best suits their needs. For instance, parents with a small nursery may be interested in a space saving
corner crib
where those with loads of space might prefer a
round crib
that will allow access to the baby from all directions and add a unique look of elegance to the room.
Visitors Shopping for Cribs Also Enjoyed these Pages:
Crib Mattresses
Portable Travel Cribs
Search for or request
Crib Parts
DIY crib mobiles make lovely gifts and are a beautiful addition to the nursery's decorations.
Crib Mobiles to Make
Learn how to make your own crib canopy or use our nursery pictures to choose the best for your baby bed.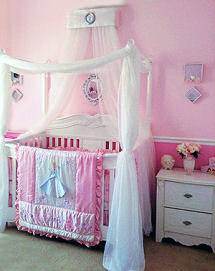 Crib Canopy Ideas and Tutorials for Baby Girls and Boys Nursery Rooms
A baby bed canopy is a good investment as it will easily transition into a Disney princess bed canopy when your little one is a toddler.
A Disney princess nursery theme may call for its own carriage bed.
Save money by buying a used baby bed and then spray paint it to enhance your color scheme.
Before you start painting a crib you visit our gallery of pictures featuring cribs painted pink, green, blue and many other colors and then read our tips for how to do this DIY project safely.
Crib Colors and Finishes
Popular colors in that the cribs at the moment appear to be
White Cribs
Cherry cribs
Honey or natural cribs
Black or ebony cribs
FEATURES
One of the most popular features that modern cribs offer would be storage space. The cribs with several pull out drawers underneath the crib mattress are so handy for storage baby items close by for fast diaper changes. The drawers under the crib are also a handy place to store extra baby comforters or blankets. Please visit our gallery of baby nursery pictures to see pictures of baby cribs that other parents have made or chosen for their baby's room.