How to Order Pali Crib Parts Find Replacement Parts for Discontinued Hardware Kits

Busy parents want to know how to order Pali crib parts so they can have the nursery furnished and ready for baby's arrival. Those that want to buy Pali spare parts for a recently manufactured crib should be very pleased that the process will go very quickly and smoothly 

It has been brought to our attention that they may not be so happy with the price but we will get to that in a moment.
Parents searching for replacements for lost hardware kits needed for older Pali cribs may be presented with more of a challenge.
Pali Crib Parts and Crib Assembly Instruction Manuals
Do Not Use Unsafe, Recalled or Drop-Side Baby Cribs!
How to Order Pali Replacement Parts for a Recently Manufactured Crib
The process is the same whether you are ordering complete hardware kits or a few Pali spare parts and just like we promised you, easy as can be. That said, I must warn you that the price for these parts has raised a few eyebrows.
The price of a complete hardware kit $80 including the cost of shipping for USA and Canada only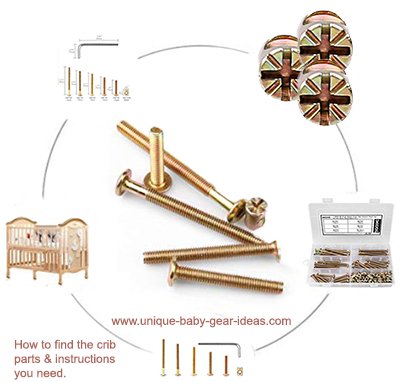 Go here to find the
individual screws, bolts and more hardware that may be helpful in replacing lost hardware for a Pali crib.
Pali does not recommend part substitutions.
Refer to the owner's assembly instructions manual to determine which parts you need. If you no longer have the owner's manual you may find and download a copy
on this page
.
How Much Do Pali Crib Replacement Parts Cost
Prices for individual parts are a bit price-y. One mom reported that a single metal slide was going to cost $25. To their credit, a discount was offered for the complete set.
Pali's customer service response to the complaint was that the $25 was not the cost of the part but the price of shipping the piece from Italy and that they offer a one year warranty valid from the date of purchase and that replacement parts for manufacture defects are provided at no cost to the consumer within that time frame.
How to Order Crib Parts from Pali
Enter the crib's model, color and date of production in an email to
   

customerservice "at" pali-design.com.
In the email include:
Your name (as it appears on your credit card)

Your mailing address
Your Visa or MasterCard number and the expiration date

Someone from Pali customer service should respond to your e-mail within 48 hours (although one mom reported that she did not hear from anyone for 2 weeks) to offer help and assistance with your order should you need it.
Be certain the part you need is the one you are ordering because there is a no-return policy for all Pali crib parts. All orders are final and the company will not issue a refund no matter the situation.
Pali Crib Parts for Old-er Baby Cribs
If you have a crib manufactured pre-2015, get ready to put on your detective hat to find replacement parts for your Pali because the company only offers hardware for beds produced in 2015 forward.
You are welcome to post what you need to assemble your crib on our "crib parts wanted" bulletin board using the submission form below provided by
Unique Baby Gear Ideas
in hopes that someone has some spare parts or advice to share with you or a copy of the instructions manual that is available as a download or a scanned copy that can be emailed or snail mailed to your home.
CRIB PARTS RESOURCE REQUESTS
Do you need a resource for spare Pali crib parts? Post your questions and requests here!
PICTURES, IDEAS and SUGGESTIONS from our FRIENDS
Click below to see contributions from other visitors to this page...