Best Pea in a Pod and Sweet Pea Baby Shower Themes Invitations and Ideas
Sweet pea baby shower themes are super for a mom expecting twins, a gender neutral shower or an event planned for gardening enthusiasts. For that matter, it is an excellent choice for a mom who is expecting a baby girl and loves pink and green since the sweet pea flower has that exact color scheme. I was a guest at a "pea in the pod baby shower" recently. Some of the unique ideas the hostesses came up with for decorations really knocked me out and I want to share them with you!




I never dreamed there could ever be so many cute favors for pea party themes, sweet pea baby shower invitations or ways to decorate a cake with sweet baby peas that wouldn't have you swimming in a sea of green! But those girls pulled their pea in a pod baby shower off in high style!


Bringing greenery indoors to decorate the shower venue is a great way to save money, but too much pea green would not be workable in any color scheme. The sweet pea baby shower that I mentioned featured a delightful blend of color throughout the reception area. The pea in a pod baby shower decorations were in perfect balance with all the colors of the rainbow.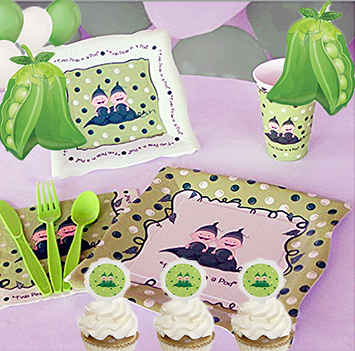 Go here to see
invitations and decorations and ideas for creating a beautiful sweet pea in the pod gift and dessert table complete with cupcakes.


Sweet Pea Baby Shower Gift Ideas
Sweet pea baby shower themes are especially great for spring when we are so excited about signs of new life outdoors or in March when the primarily lime green or kelly green color scheme will be used to decorate the shamrocks for our with Saint Patrick's Day celebrations when it doesn't really matter if you are Irish or not!
Are there any hostesses that would like to share their sweet pea baby shower themes and ideas with the rest of our visitors? We would love to hear your baby shower ideas for the sweet pea party theme.
Here's a simple form that will make sharing your sweet pea baby party ideas very quick and easy! If you have pictures or a video of your ideas on using a sweet pea for baby showers, please include it!
Return to Unique Baby Gear Ideas to see the latest shower trends for baby boys or girls PLUS a gallery of pictures featuring cute baby bedding sets and gift ideas for a newborn.