Best Butterfly Decorations and Party Supplies for Baby Showers
If you're looking for butterfly decorations for a birthday party, wedding or baby shower, we have some cute items that will turn your event into a natural wonderland of delight. There are complete party kits that include all of the plates, tableware and invitations. Strings of paper butterflies, streamers and personalized party banners will take your theme even further if you wish.



Visitors Who Like This Page Also Enjoyed these Pages:

Butterfly Nursery Theme

NEW! Butterfly Baby Bedding

Butterfly Nursery Decals



BUTTERFLY DECORATIONS for the CAKE
Professional bakeries can do wonders with brightly colored fondant. Various layers can be decorated with a few colorful butterflies sprinkled randomly with a special arrangement to top off the masterpiece at the top. The mom who is baking her own cupcakes can use edible, butterfly shaped cupcake sprinkles for butterfly cake decorations for the kids' party.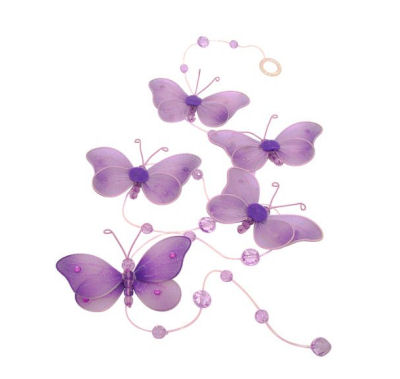 SEE MORE HERE
HOMEMADE BUTTERFLY PARTY DECORATIONS
For the hostess with a tight budget, there are many wonderful craft projects where very little is required in the way of supplies. All that's necessary would be a pair of scissors, construction paper, glitter, glue and nylon thread to hang your homemade decorations.
BUTTERFLY BABY GIFTS IDEAS
BUTTERFLY STENCILS
BUTTERFLY BABY SHOWER THEME
SHIMMERING, OUTDOOR BUTTERFLY PARTY DECORATIONS
Candles in the shape of butterflies will look lovely floating in the pool or in vases of water used as centerpieces for individual tables. Butterfly ice sculptures can cool the punch as well as serve as butterfly decorations for a butterfly theme baby shower or wedding.
BUTTERFLY THEME PARTY TABLEWARE
You will be virtually amazed at how much color and style that inexpensive, plastic tablecloths and plates will add to your butterfly decorations. Take care to blend styles and color schemes with the room decorations so that your theme will flow seamlessly according to plan.
Return to find more butterfly baby nursery decorations and party decorating tips.