Adorable Umbrella Baby Shower Invitations Ideas and Decorations Ideas
The idea of an umbrella baby shower theme just tickles me pink! Not that mom will want an umbrella overhead when her nearest and dearest friends show up to shower her and her soon to be born baby with cute stuff but how ingenious is the idea of decorating a shower venue with umbrella decorations?


Not only does an umbrella theme baby shower make sense, I can see lots of decorative potential as far as favors, color schemes and decorations are concerned. For one thing, the selection of prints and patterns is out of this world.


Flowers, polka dots and stripes are just a few of the patterns that you might consider including in your event's decorations.


April Showers Baby Shower Theme Ideas

Baby Shower Invitations

Baby Shower Themes

GIFT IDEAS
If you are wondering what would be a great gift for the guest of honor that is totally in keeping with the theme of the party I would find the best umbrella baby stroller and dress it up with a big bow!



Go Here to See More
examples of beautifully decorated umbrella centerpieces.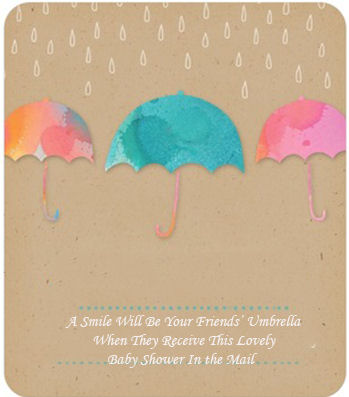 See More Examples
of umbrella baby shower invitations and sayings that can be used to personalize your cards.
Chances are that if you want to combine say a rubber ducky theme the chances are great that you can find umbrellas with a suitable print to complement anything from
yellow duck theme baby shower decorations
to
pink ladybugs theme baby shower decorations
and more.
If themes are not your cup of tea, lacy parasols, plates, cups and tableware in the color of your choice are elegant as well as appropriate for a boy or girl's baby shower. If the sex of the baby is unknown, traditional gender neutral colors are available.
Check out Unique Baby Gear Ideas' tips for shower favors and gifts that moms and dads will treasure.