Unique Baby Shower Favors Ideas For the Busy Party Hostess on the Go
When busy moms take the time to come to your party, have some cool baby shower favors to send home with them! A dollar or two can make all the difference in the world and how your guests remember the party. Face it, people's schedules are overloaded with appointments and engagements and there's no way they can fit them all in. If our friends bump our function to the top of the list of things to do, we should let them know how much we appreciate their presence. After all, baby showers with nobody there but the mom and the hostess would not be much fun!




Nail Polish Favors for a Baby Shower
Baby shower favors are to serve as a reminder to our guests that we appreciate their participation. Baby shower favors can be as formal and elaborate as personalized items and gift certificates to a pack of pretty note cards. The size of the budget often makes the determination what kind of favor will be presented.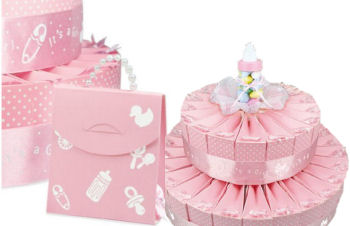 Go here to see matching
baby shower favor boxes and decorations to complement your party's theme and to find all the supplies you need to make your own favors, invitations and more.
When playing baby shower games it's common for special baby shower favors to be offered as prizes to the winners. However, it's not really fair for the rest of the guests to be left empty handed while the luckier and more skilled guests get all the cute stuff. So, you will want to have special rewards on hand for the winners of the shower games that are played as well as small gifts for all to take home.
If you have a limited budget and excellent way to get your money's worth out of the baby shower decorations is to present them as favors at the end of the party. As an example, the inexpensive crystal dishes that you use to hold crunchy finger foods and snacks can be presented as mementoes to the guests once they are emptied to take home as a keepsake of the occasion.
You can make your own ceramic figurines as well as many more small gifts for your guests that reflect most any baby shower theme. They can be arranged on the tables, used as decorations during the festivities and then sent home with each guest at the end of the party.
If you are trying to come up with some cheap shower favors to make here are a few baby shower ideas
Hand thrown, local pottery and ceramics are always well received
Hand poured homemade soap in shapes duplicating your theme or with tiny pacifiers, rattles or baby bottles inside
Scented candles are excellent favors that are easy to make yourself at home
Chic flower bouquets tied in ribbon that were part of the shower's floral centerpiece or cake topper that can be enjoyed in your guest's home for a few days
Baked goods or candy
Make homemade or get cinnamon buns from a bakery, put them in pretty gift bags tied with ribbons with a thank you note from the "bun in the oven"
Inexpensive picture frames. Type a note to place in the frame with wording something like: Gee I'm sorry that I'm note at the party
I'm not quite ready to make my debut
But when I arrive I look forward to meeting you
Love, (baby so and so)
Tiny baby socks filled with chocolate kisses tied with ribbons.
Be certain that anything you decided to give is remarkable and easily associated with your party.
It's my opinion that the very best shower favors are items that the guests will enjoy and that are remarkable. Anything that they might keep on hand for everyday use like special soaps, scented candles, picture frames or dishes would be wonderful. Shower favors that reflect the theme of your baby shower ideas that give moms the luxury of pampering themselves for a few moments are especially appreciated and remembered.
Baby shower favors are not required but isn't it nice to have something cute to share with your friends once the shower is over and the good-byes are being said?
Thanks for stopping by to shop for unique baby shower favors and I hope that you will take a moment to visit our gallery of baby nursery ideas before you leave!
TELL US YOUR IDEAS for CUTE BABY SHOWER FAVORS
Example: Where did you get your ideas? What was your inspiration? What colors and items were included in making the item. Is it personalized or special, themed? If so, tell us!
MORE IDEAS
Click below to see contributions from other visitors to this page...

Nail Polish Favors for a Baby Shower

Nail polish favors for a baby shower are a stunning idea because the polish can be chosen to reflect the color of the baby shower decorations, the sex …