Little Angel Baby Shower Ideas, Invitations Gifts and Favors
On this page we have some very nice angel baby shower ideas that will be absolutely Heavenly with pink decorations for a baby girl, blue ones for a baby boy or gender neutral colors if the sex of the baby hasn't been announced. This is a very elegant theme but the hostess can take steps to keep things simple, glam with angelic table decorations, a large cake, decorations from floor to ceiling featuring fluffy, metallic gold arrangements or perhaps a more solemn spiritual approach with Bibles, crosses and or Christian decor.


Due to the religious possibilities, angel party themes are especially popular during the Christmas holidays. However, angel baby showers are appropriate during every season since cherubs are being delivered directly from Heaven above every day and each special delivery deserves a celebration heralding their arrival.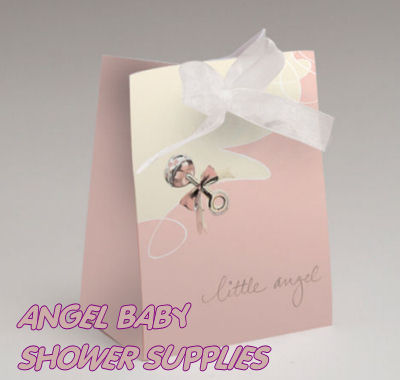 Angel Baby Shower Centerpieces and Decorations
Angelic color schemes include white and gold but you may be able to come up with some pink or blue angel baby shower ideas that will be cute especially if the sex of the baby is known. Either color would work nicely along with traditional white and gold backgrounds and will add a distinctive baby shower feel to the decorations. Here are some angel theme baby shower ideas for formal as well as casual table decorations
Before you start buying your angel party supplies, take a minute to think if you might have some angel decorations that you use to decorate your dining table at Christmas that you might be able to use for your angel baby shower.
Brass angel shaped candlesticks decorated with tiny nosegays of baby's breath and pastel pink or blue flowers
Tie the napkins with homemade napkin rings made of simple gold cords with a single, fluffy pink or blue feather that looks like it just fell from an angel's wings tucked into the bow
Fluffy tulle net tablecloths tied at the corners with elegant satin ribbons or arrangements of feathers
Centerpieces made of more feathers rather than flowers
For a casual party, angel shaped balloons tied with pretty ribbons would be very festive
If you have decorated the tables and want your angel themed baby shower decorations to cover more area here are some baby shower ideas on a larger scale:
Layers of clouds and twinkling party lights suspended from the ceilings. If you are wondering how to float enough yards of net or tulle fabric to look like clouds, carefully placed thumbtacks might do the trick.
Large urns with angel balloon sculptures in the corners of the room as to the sides of the door where the guests will enter
If you have angel wings left over from a pageant costume or Christmas play, use them to decorate the walls behind the serving table or over the doors and windows after you have tied large pink or blue bows splashed with some sparkles or glitter.
ANGEL THEME BABY SHOWER MENU IDEAS
When I think of angel baby shower ideas, clouds are very prominent in my mind. So, the ideal baby shower menu would include lots of "fluffy" dishes. Pies with tall meringues, soufflés or for a casual party you might rent a cotton candy machine and serve cotton candy for dessert.
ANGEL FAVORS
I'm often asked how to make inexpensive angel party favors. My answer is, "Why bother?" There are lots of cute angel baby shower favors that cost a dollar or less that don't look cheap or cheesy. Angel baby shower ideas for less than a buck are hard to come by, so by all means take advantage of this opportunity to fill your goody bags at a bargain and spend the money you save on some cute angel themed hostess gifts for the guest of honor.
Return to find more Unique Baby Nursery Ideas for your little angel's room as well as more ideas for an angel party theme.