Jungle Safari Theme Baby Shower Invitations, Cakes and Decorations Ideas
Our jungle safari theme baby shower ideas will make your guests go WILD in a fun, wild animal kind of way. Tips for decorations that double as much appreciated gifts for the guest of honor and her newborn help the hostess save money and stretch her budget to make room for the cutest, personalized safari baby shower invitations for baby girls, boys or both!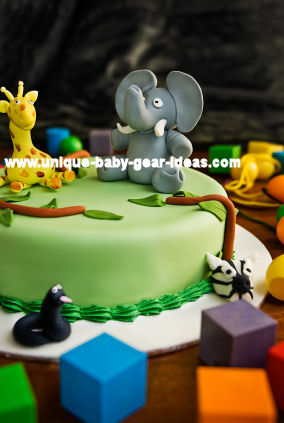 Best Safari Baby Shower Invitations
The fun of a jungle safari theme baby shower is, of course, the animals; everybody loves monkeys, zebras, elephants and giraffes.
There are lots of cute invitations covered in baby jungle animals that will make your guests smile the moment they receive the card.
Jungle Baby Shower Invitations
King of the Jungle Baby Shower Invitations
Monkey Baby Shower Invitations







Clothesline Baby Shower





Visit these pages to pick up some safari themed baby shower gift ideas!
CHEAP Jungle Safari Baby Shower Theme Decorations
The best baby shower decorations are those that do double duty. Choose your party decorations carefully so that they can be put on display and admired by the guests while the shower is in full swing and then presented to the mother-to-be as a gift at the end of the festivities.
Examples:
A clothesline filled with safari themed baby outfits
A homemade diaper cake decorated with jungle animal shaped teethers and toys
A bouquet of animal print baby socks as centerpieces on each table
The Best Place to Shop for Cheap Decorations in a Safari Baby Shower Theme
The everything for $1 store is ALWAYS my first stop even if I didn't see a single thing I could use on my last trip. They get new stuff in all the time and you never know when they might have a bin full of stuffed zebras, giraffes, elephants or other jungle animals, palm trees or a garland of green leaves to put the finishing touches on your venue. You did get the part about less than a dollar, right?
How to Make Your Own Safari Baby Shower Invitations
Would you prefer to make your own baby shower invitations? There are plenty of free printables and downloadable templates but here are the instructions for my favorite homemade jungle safari theme baby shower invitation idea:
1. make labels with the details of the shower printed on them.

2. buy a small (only 3 or 4 inches tall at most!) stuffed jungle animal at the $1 store (see tips above).

3. thread a ribbon through a hole in the label that you made using a hole punch.

4. tie the label around each of the stuffed animals' neck.

5. tuck your homemade invitation inside a jungle, safari theme favor bag.

6. mail or deliver each jungle safari theme baby shower invitation to your guests.

This creative idea will cost a few extra cents in postage but what a great kick-off for a fun shower!


FREE Jungle Safari Baby Shower Games

Here are two baby shower games to play (that can be adapted to most baby shower themes) that are fun and FREE. The only supplies that are necessary are your computer's printer and paper.
BABY JUNGLE ANIMALS MATCH-UP GAME
In this game you will make a list of jungle animals on one side of your paper and a list of the names of their babies on the other side. Set a timer and see which of your guests knows the most about jungle babies! Use animal print note paper for your jungle baby shower games or use free clip-art to jazz up plain, white inkjet paper.
JUNGLE SAFARI WORD SCRAMBLE
Look in the encyclopedia for words (the longer the word the better) related to an African safari and scramble the letters.
Pass a sheet with a pencil to each of your guests, set a timer and see who is able to unscramble the most words like "pith helmet" in five minutes or less!
If you have any jungle safari theme baby shower ideas to share or pictures taken of a safari themed baby shower cake, decorations or invitations that you made yourself, please use the form on this page provided for your convenience to upload your pictures and a description of what's in the photo.
We would also love menu and food recommendations with recipes if you have them!