Best Bumble Bee Baby Shower Theme Ideas, Invitations and Decorations
The bumble bee baby shower theme is a classic gender-neutral baby shower "What will it BEE" baby shower that is just as sweet as honey and buzzing with possibilities for sweet bee baby shower favors, bee baby shower decorations and cute gifts that you can make yourself!

A DIY bumble bee baby shower banner is easy to make using card stock and letter stencils.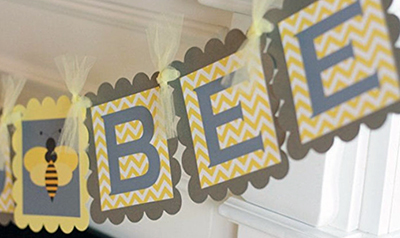 Go here to see
homemade bee baby shower banners, cupcake toppers and birds and bees banners that will keep your special guests buzzing long after the shower is over.
Bee Baby Shower Ideas
If honey or bumble bees aren't your cup of tea, perhaps a "Birds and Bees" baby shower shower theme with its more flexible color scheme would be more to your liking?
Color Scheme
The hostess might fill the venue with floral arrangements with bee decorations.
The flowers should be in colors that will provide the best background for the bees. An arrangement of cream color mums and daisies would be inexpensive yet effective as well as a mix of bright yellow mums, cream mums and baby's breath. An elegant, sophisticated (and more expensive) floral arrangement might consist of yellow and cream color roses.
Put a sweet honey flavored spin on the festivities by baking a beehive cake to command attention on the serving table. In place of the honeybees that would normally be buzzing around the hive, decorate a baker's dozen (or more) adorable black and yellow baby shower cupcakes with at least one tasty bee on top.
Bright yellow napkins tied with black or black and yellow or black and white polka dot grosgrain ribbon on top of black baby shower plates would make a lovely presentation in keeping with the bee baby shower theme.
Bee Baby Shower Decorations
White is the best color to showcase the natural coloring of our friends, the bees. The last shower that I styled, the card stock that I chose for the baby shower invitations was antique white with light cream color linen tablecloths as a background for the black and yellow decorations.
BUMBLE BEE BABY SHOWER GIFT IDEAS
Bumble bee baby bedding and baby clothes with a bee theme would be grand but a bee baby mobile offers the benefit of being a baby shower decoration as well as a gift that mom can take home!
BEE BABY SHOWER FAVORS
There are some very cheap bee baby shower shower favors that you can make yourself including honey straws that you make yourself and decorate (with the same ribbon you tied the table napkins with), honey scented beeswax candles that you poured in baby food jars that you saved for that purpose or you make your own personalized baby food jars filled with honey that are just as cute as can be...AND SO INEXPENSIVE!
We love it when visitors to Unique Baby Gear Ideas share pictures of baby showers AND when they share photos of their baby's nursery so please take a minute and use the form on this page to upload pictures of your bumble bee baby shower cake, nursery decor or tell us how you made your own room decorations, baby shower favors or gifts!