Cute Alice in Wonderland Baby Shower Theme Ideas
An Alice in Wonderland baby shower theme will take a little planning. Finding decorations may seem like a scavenger hunt but it's filled with so many interesting characters that are worth every minute you spent searching for items to use as decorations. And with each and every character comes possibilities for decorating the cake, centerpieces and other ideas!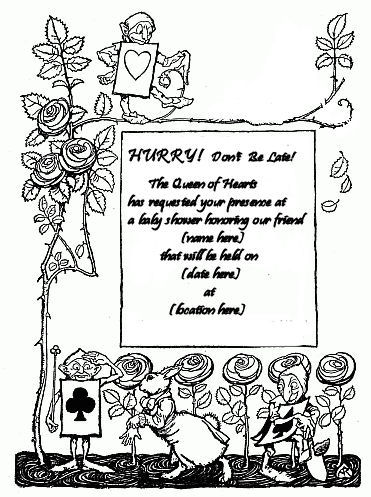 Go Here to See More
It's not only lots of fun to scour the flea markets and thrift stores for vintage items based on this classic storybook favorite but if you have the time it takes to make your own Alice in Wonderland baby shower invitations you can save some cash PLUS build a reputation for being THE creative hostess with the best ideas that everyone wants to copy.

Alice in Wonderland Baby Shower Invitations
You can easily make your own baby shower invitations using free clipart and card stock. There are many Alice in Wonderland silhouettes that you can use to decorate paper in the colors that will be reflected in the decorations or if you prefer an authentic look, you might want consider using some of the image files in the book. OR you can use the free template above as an example and insert your own baby shower invitation wording. The beauty of this artwork is that it's black and white and therefore easy to adapt to any color scheme.
Alice in Wonderland Baby Shower Theme Ideas

Colors
As of late, I've seen more than a few parties and showers in this theme that took the modern "Technicolor" route using images from the movie as inspiration, but I prefer the old style color scheme of red, black and antique white.
Decorations
All that's needed here is a slight twist on traditional tea party baby shower ideas. To get started, recruit every china tea service within your reach to use the foundation for a centerpiece on each guest table. Then teapots, cups and old fashioned floral arrangements accompanied with playing cards depicting the Queen of Hearts. If you can find an old deck of cards buy a new deck at the $1 store and age them by tea staining them. And don't forget to include some cards to represent the queen's guards.
Alice in Wonderland Baby Shower Theme Menu Ideas

There's no end to the glorious cakes that can be created in this theme if you are an artist and cake fondant is your preferred medium. Most of us don't have the time or the artistic talent to create an edible masterpiece but there are delightful cake toppers both edible and in-edible at our disposal.
If you need cheap snacks that are right in line with your Alice in Wonderland baby shower theme, you might consider setting up a platter of these cute toadstool hors d'oeuvres. The stems are made from string cheese sticks (you could use any cheese you like, but this was easy!) and the tops are halves of cherry tomatoes!
Alice in Wonderland Baby Shower Favors
If you need ideas for homemade baby shower favors that you can make yourself, you can:
Personalize your own teabags
Bake teacup shaped cookies
Visit a thrift store, buy the odd, mismatched china cup, and add candle wax and a wick to make a charming teacup votive candle
The Final Word on Alice of Wonderland Baby Shower Theme
I'm sure that you will come up with many ideas of your own that will put mine to shame but the tips on this page should put you on your way to styling a unique Alice in Wonderland baby shower theme. Please direct the mother-to-be to Unique Baby Gear Ideas if she needs nursery advice or if she decides (after your wonderful shower!) that an Alice in Wonderland nursery theme might be just the ticket!