Nautical Baby Shower Ideas for Ocean Sailing Boys and Girls
I have some amazingly creative nautical baby shower ideas for party planners after catching a party for a baby boy last weekend! I can hardly wait to pass them along to my friends. The hostess of this baby boy shower is a sailing fanatic and spends every moment possible on board her beloved sailboat so she really poured her heart and soul into making this celebration a success.


When I got the nautical baby shower invite out of my mailbox, I noticed that the envelope seemed a little unusual. There was a little lump in the center of the flap that I found intriguing. When I opened it, I noted that the "bump" was a silver anchor charm that was attached to the side of the sailboat invitation. How nice is it to send a little something for mommy's charm bracelet as a keepsake along with the invitation?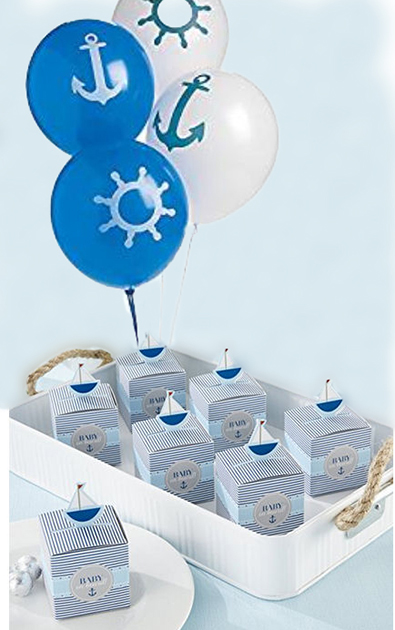 Go here to see more
ideas for favors and decorations for a Nautical theme baby shower.
Nautical Baby Sayings and Quotes
If you would rather make your own sailing theme cards to reflect your personalized
nautical baby shower ideas
and color scheme, here are a few baby shower wording suggestions:
SAIL ON OVER TO A BABY SHOWER HONORING (insert friend's name here)
AHOY! Our little sailor is due to arrive any day now. Please join us in wishing (insert friend's name here) smooth sailing
HELLO FRIEND! SHIPS AHOY. (insert friend's name here) is expecting a sweet baby boy!
Word is that (insert friend's name here)'s baby is sailing this way. Let's help her celebrate before the big day!
Venues for a Nautical Baby Shower Theme
The perfect spot for a nautical event would be on a boat or at the very least a spot that is close to the water.
Consider renting a large party barge but be sure that you will have access to decorate prior to the event. Rent enough time for the baby shower, to deliver food and decorations and cleanup. If luck is with you, there may be nautical themed decorations left over from previous events that you can borrow to save money. One other consideration would be to check to be certain that none of the guests suffer from seasickness.
Nautical Baby Shower Decorations and Table Decor Ideas
The best colors for a nautical baby shower are red, white and blue and if time and money are issues, you would be wise to stick to traditional colors in your list of nautical baby shower ideas for the simple reason it will be easy to find cheap plates, cups and tablecloths in these colors.
Make a trip to the marina to pick up boat oars and life rings to use as table centerpieces and decorations for the entry into the party. Plan for your use the crib quilt from your gift of nautical baby bedding to be used as a decorative wall hanging or a sailboat lamp to decorate the table filled with nautical baby gifts.
Nautical Baby Shower Favor Ideas
Silver sailboat or anchor charms are always appreciated as are sailboat shaped picture frames and candles.
If money is tight, bake cookies in the shape of boat anchors, frost them with white icing and then top them with bright red or blue sprinkles. Send the tasty boat theme treats home with your appreciative guests in pretty favor boxes or cellophane bags tied with red and blue curly ribbon.
Thanks for visiting Unique Baby Gear Ideas and we wish you smooth sailing for your event!