FREE Stencils - Baby Nursery Theme Patterns

FREE stencils are a creative and cost effective way to paint and personalize a baby's nursery with patterns, painted designs and motifs that reflect your chosen theme in perfectly matched color combinations.
Using your own paint and custom wall stencils is by far the best method of getting a perfect color match for your baby's painted wall border and the nursery bedding set. Decorators searching for a perfect match in unusual color schemes often choose stenciling as a way to get the job done.
Stenciling does take skill but taking the time to master the craft will not only produce amazing results, but save money over paying an artist's salary or buying custom decals or wallpaper! Don't be intimidated; learning how to stencil is easy and with all the sources for free printable stencil designs online; cheap!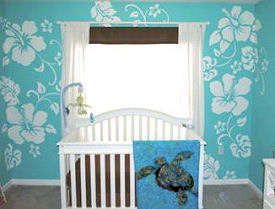 Large stenciled hibiscus flowers were used to decorate the walls of this Hawaiian nursery with an underlying sea turtle theme.
We have many stenciling ideas for a baby's nursery including traditional patterns as well as elegant tufted wall stencil patterns.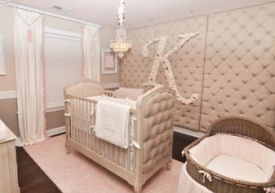 Tufting on the walls and crib of this baby girl's princess nursery theme create a plush atmosphere.
Stenciled Baby Girl Nursery Ideas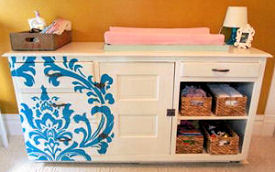 These free baby stencil patterns can be used to paint a border on the wall, to personalize the space with the baby's name or to paint a design on a baby dresser like this one to make it unique and one-of-a-kind.
A large damask pattern was applied to the freshly painted baby changing dresser in blue.
Stencil Patterns
Learn How to Stencil in 4 Easy Steps
Go
HERE
to learn basic stenciling techniques, the best brushes to use for your painting project and a supply list.
FREE STENCIL DECORATING and CRAFT IDEAS
Here are some ideas for how to use your free stencil designs to paint personalized, custom nursery wall borders for baby's room. Baby stencils come in all sizes and in every decorative motif and theme that you can imagine! Here are some of our favorites.
Stencils for a
baby girl nursery
:
Ladybugs
Flowers
Butterflies
Carrots for a bunny theme
bows and streamers
Stencils for a
baby boy nursery
:
Sports themes like basketballs,footballs or soccer balls
fire trucks
Tropical fish or fishing theme wall stencils
Western cowboys and horses
Puppy dog paw prints
Here are more resources for free stencils that can be enlarged and copied. Use the templates "as is" or use the fonts for letters on your computer to make your lettering stencils in any size you need. Random letter and number stencils can be used instead of wallpaper to decorate a kid's room wall.
PRINTABLE, FREE STENCIL RESOURCES
There are many sources of royalty free stencil patterns available online:
Free stencil patterns for an Asian or Japanese design - www.stencil-library.com The Stencil Library
There are many websites that offer tips for stenciling projects. Get ideas for using the many free stencils that you find online!


There are loads of free wall stencil patterns and cutout patterns available online. Another way to get free designs is to take a coloring book for kids with pictures that you like and trace cutouts. There are books in the stores with pictures of pacifiers and baby bottles that you could use to decorate gift bags for a shower or images you could use to decorate many nursery themes.
HOW TO WORK WITH STENCILS
Once you find the designs you want, here's how to use them.


Save the images to your computer. Use your imaging software to make them the size that you need for your nursery furniture, wall, floor or ceiling painting and decorating project.

Remember to use larger images for wall art projects and small ones to personalize your baby nursery furniture or baby accessories.


Use the printout as your pattern
trace the designs onto acetate sheets removing the appropriate cutouts. Leave a 3 inch border for design stability
Tape your pattern in place and with a stencil brush (a sponge can be used in a pinch)begin to build color. Blot the paint from your brush after each loading. Add a small amount of paint at a time. Build your color gradually! It's much hard to have to repaint the nursery wall to remove paint run than to build a little at a time
If you are unsure of yourself, take advantage of the easy online craft tutorials that give instructions for how to use Photoshop software to make your own personalized designs and baby theme stencil patterns. If you create your own unique designs, don't forget to copyright them!
Stand back take a look at your beautiful stencil designs! So easy, and when you want to change your nursery theme you know it's just a matter of finding more free stencils, paint and some imagination!
HAND PRINTS and FOOTPRINTS
Take one of your child's hand prints and make personalized, hand stencils to criss cross in a painted border around the bedroom. It takes some time, but you would never find wallpaper borders that cost so little. Home made stencil art is easy, fast and practically
FREE
! It just doesn't get much better than that!
EASY BALLOON BORDER
Stencil your own custom wall border in any designs or colors that you can imagine. Here's an example of a stenciled border that would be lovely for a circus theme or a little something colorful and fun for any kid's room.
Start by stenciling a group of balloons and then draw the strings that tie the balloons free handed.
Paint your child's name on one of the balloons or use free alphabet stencils to help with lettering baby's name, inspirational words or a favorite quote under the painted balloon stencil designs.
LAYERED WALL STENCIL KITS
For the advanced artist it's possible to paint an entire wall mural for your nursery using decorative wall stencils that layer one stencil design over another that gives the painting a 3D look. While much easier than other methods of mural painting, layering the numerous stencil sheets takes practice. You might want to start with simple stencil designs and use self adhesive stencil materials.
Decorating ideas for your wall stencils are everywhere! One stylish way to use them is to buy or make your own pattern to use for painting your baby's name on the nursery walls over the crib.
I hope that you find our resources for free stencils helpful and that the pictures of nurseries on this site will inspire you to use your imagination to find many creative uses for your newfound stenciling skills.