Best Biker Parties
Ideas for a Motorcycle Baby Shower
Contrary to what you might think all biker parties aren't "black leather and biker babes". Take motorcycle baby showers for instance. There are events when the only necessities are a keg and a bonfire with the only decorations in sight being the chrome on the custom choppers and the studs on the guests' clothes.


On special occasions, like when one of the club members is expecting a baby or perhaps when a couple's son or daughter is graduating from high school there may be a need for the hostess or planner to make a few changes. She may want to decorate the venue and create a slightly different atmosphere from the usual event.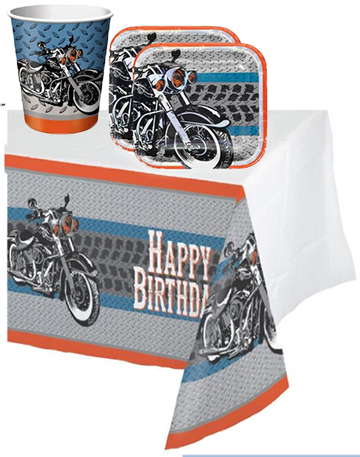 Go here to get
get an idea of how many and what type of decorations you will need for your motorcycle baby shower or biker party.
Motorcycle Baby Shower Invitations
Your invitations can be as easy and cheap as a plain white note card with the pertinent details regarding time, place and who the guest of honor might be. If you want to go a more formal route, you can buy cool cards with pictures of your favorite motorcycle on front that have a blank area for a short customized invitation poem or simple wording stating the reason for the party. Please be ultra-clear with the information provided in your invitations as to whether the shindig is a motorcycle themed baby shower that will have young kids on the guest list or if it's for adults only.


Motorcycle Baby Shower Ideas and Decorations
Motorcycle flags flying high at the entrance to the party set the tone and help guests find their way without a road map, but take care that the symbols or emblems on each flag don't offend or go against any of your biker friends' club affiliations. Flame party supplies and decorations might be the best route to take to avoid stepping on anybody's toes.
Tiny toy choppers make excellent place card holders, and a big custom 3-D chopper in the center of each table looks really cool if there's room in the budget for individual centerpieces. Chopper or motorcycle shaped piñatas hung from the ceilings fill the space along with lots of Mylar balloons at biker parties for children.
MOTORCYCLE PARTY FAVORS
This is where the fun really kicks in. The selection of little items that you can put in the goody bags is huge!
Motorcycle helmet stickers and decals
Embroidered motorcycle patches (remember to check whether your guests are members of the Christian Motorcycle Association or Outlaws!)
Do rags
Packs or sets of temporary tattoos are great gifts for the kids
A dainty gold or silver motorcycle charm or some type of baby jewelry
Motorcycle Baby Clothes
Depending on the theme of your shower or party, cool motorcycle themed gifts may or may not be required. Motorcycle gifts for adults are pretty much a no-brainer. If you're a biker you know what they like. If you need ideas, take a look at the worn pages in their favorite motorcycle catalog. That's where you'll find the best gift ideas for the biker in your life.
Biker parties for expectant moms will require a unique blend of biker stuff only for babies and it would be very nice if you would stop by Unique Baby Gear Ideas to share pictures of your event.

Gift ideas include accessories to match the motorcycle nursery theme, a Harley Davidson diaper bag for that motorcycle riding momma or some kind of tote bag with the HD logo that you've filled with baby bed and bath items or some article of baby clothing with a few flames, skulls or some other motorcycle motif printed on the front.