Sweetest Baby Lamb Baby Shower Theme Ideas
A sweet lamb baby shower theme is a versatile theme that is playful and soft that can easily be adapted for a baby boy or girl or the hostess can plan a gender neutral party based on this classic theme as well. The mom to be might enjoy baby shower invitations based on favorite nursery rhymes.

For example, the Baa Baa Black Sheep nursery rhyme would be unisex while Little Bo Peep would be excellent if the guest of honor is expecting a girl.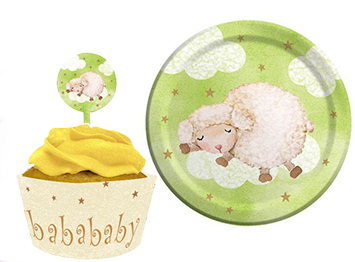 Go here to see more
Lamb Cupcakes for a Baby Shower
The shower hostess might buy a lamb cake pan and make a cake or a less expensive, less labor intensive approach would be to bake cupcakes from a mix or her favorite recipe, frost them and use little lamb cupcake toppers that will look so great guests will want to know which bakery she used for the desserts.
Speaking of bakeries, the the modern mom on the go may have little choice but to hire a reputable bakery to bake a cake or cupcakes. Look for pictures of baby lamb cakes online, print your favorites and take the examples with you to take along for the consultation to avoid misunderstandings.

Lamb Baby Shower Invitations
It is so easy to make your own lamb theme shower invitations. You might do something as easy and inexpensive as to use a white note card with a sheep stamped in one corner with room for the wording or a short poem and the details of time, date and location. Or you could take a more creative 3D approach and cut out the shape of a sheep and layer fluffy cotton around the details of the sheep's face and shower details. If your time is limited, you can always order personalized lamb baby shower theme invitations that are cheap if you consider the time you will save.


LITTLE BABY LAMB BABY SHOWER THEME DECORATIONS
Helium filled Mylar balloons give a hostess a lot of bang for her buck so far as the baby shower's budget is concerned. And if the venue is large in comparison to said budget, by all means arrangements of balloons are not considered to be in bad taste. If you have some wiggle room, I would like to make the suggestion that you bypass as many plastic items as possible when decorating for this theme.
Slick plastic surfaces simply do not feature the softness of baby lambs. Choose baby lamb shower decorations that have a soft and cuddly look. A plush, stuffed baby lamb used as a centerpiece on each guest table would not be expensive and could serve as lovely lamb baby shower theme favors or as a gift the guest of honor could re-purpose as decorations for her baby's lamb theme nursery. The key to finding creative crafts projects is to look beyond the search term of "baby lamb" or even "sheep". Shop in the farm or Easter decorations and you might score some little lamb party supplies for a reduced price.


LAMB BABY SHOWER IDEAS
This theme is super for a gender neutral baby shower or an Easter shower if Easter Bunny decorations are not to your liking. It also can be used as an appropriate theme for religious context for a Lamb of God Christian baby shower or dedication ceremony. You might also consider using the little lamb baby shower theme for a baby girl's Mary Had a Little Lamb nursery rhyme baby shower.


Baby lambs are so cute and as we have seen, so versatile. I am sure that you can take our lamb baby shower theme decorating ideas and using your own imagination come up with many unique ways to decorate using these gentle creatures. I would love to include pictures from your party in our gallery to inspire other hostesses, so please don't forget to return to Unique Baby Gear Ideas to check out our nursery ideas and to share pictures of your baby lamb baby shower cake and decorations others.