Ideas for Camo Baby Shower Ideas Camouflage Hunting Theme Games, Food and Invitations
We have some ideas for a camo baby shower including games, party favors and food.  Practically, all the hostess will need to do is add some mossy oak camo tableware and you can have a baby shower that seems that it originated right out of the duck blind or deer stand!
Most moms are not experts on the subject of the various camouflage prints. Most can't tell which is for use in the desert or for the jungle. I'm sure that your party guests will accept the fact and understand that we are having to make do with the best camouflage party decorations that we can find.
If you need some fun baby shower games and activities to entertain the guests (the men will like these much better than traditional baby shower games!) pass out some paintable wooden toy jeeps or jet planes and have a competition with prizes for who does the best paint job!
Here are some party supplies and decorating ideas I came up with for a party with either a hunting or military themes.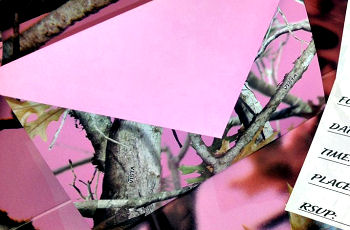 Go Here to See More
Olive drab and brown baby shower invitations are perfect for Daddy's Future Hunting Partner but
pink camo invitations
for girls are adorable!
We might be limited to varying shades of green as far as color schemes go to use with your camouflage baby shower decorations, but it's worth the trade for the cool tableware and party favors. Here are some party favor suggestions:
Camouflage print binoculars
Plastic camo print helmets for the kids
The guys will appreciate some camouflage print duffle bags. You can get some friends to help you stitch them up ahead of time
Pink, blue, purple and orange camo print bandanas, camouflage print hats or fluffy camo print hair bows will tickle the little girls attending your celebration.

If dad participates in the games and festivities consider rewarding him with one of the camouflage diaper bags for men or some other camo print baby gear. You could really push the envelope and present him with a homemade camo baby sling to match the camo baby bedding that mom picked out.

If your baby shower is held outside let the guests go wild with a candy filled military tank piñata made specially for your event.

Return to Unique Baby Gear Ideas to see more camouflage baby shower cakes and decorating ideas.