Red Apple Baby Shower Ideas for an Apple of My Eye Baby Shower
We have some sweet, red apple baby shower ideas including easy crafts projects for decorations and invitations all courtesy of our friend, Haniela, who maintains one of my favorite blogs, Haniela's Food and Photography Blog. She has some tips for throwing an "Apple of My Eye" baby shower as well as recipes for food that will tickle your guests.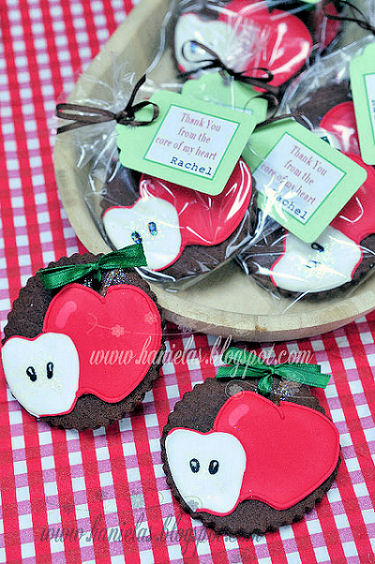 Make your own Apple of My Eye baby gifts like this adorable sun bonnet from bright red and Granny Apple green fabrics.
A pretty apple print baby bonnet or a layette with apple embroidery would be perfect baby shower gift ideas.
Her photos are so inspiring that even I, prone to lie around on a lazy, daisy fall Saturday like today, was motivated to drag out the stand mixer and bake a cake. My efforts fell far short of hers but food blogs with delicious recipes like hers make you want to get up and cook some tasty food!


What I love about the Apple of My Eye baby shower is that it's a perfect theme for a fall baby shower. The country style, red and white checked tablecloth and the apple themed baby shower decorations remind me of days spent at my grandmother's farm in the country during "apple pickin' time. The pictures just make you want to grab a bale of hay and have a seat until the cider's ready. But wait...Haniela has recipes for goodies that you will want to try first!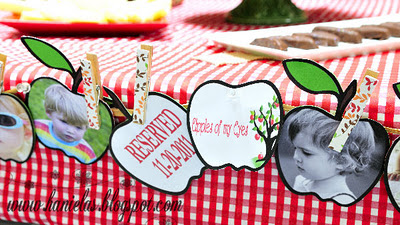 The guest of honor wanted her 3 and 2 year old children to be a part of the festivities so Haniela made a special "Apple of My Eye" photo banner with their pictures on the apple shaped cut outs made from Martha Stewart collection paper. To put the "shine on the apple" she added some decorative wooden clothespins. She said that these apple party decorations took some time to make, but that they were fun.


Everything you see here including all of the recipes and tutorials for many of the red apple baby shower decorations are on Haniela's Food and Photography Blog (which at the moment seems not to be active). When you visit (and you should!) you should prepare to be amazed by all of her excellent recipes and photos.


Fresh sliced apples arranged in a pinwheel around a ramekin filled with dip make a pretty presentation on the dessert table.
This recipe for peanut butter dip is so easy to make and a real crowd pleaser that adults and kids will love. It's a healthy, sweet treat that you can make on the spur of the moment since you probably have most of the ingredients in your cabinet already!
And if you're worried that your sliced apples will start to turn brown before the guests arrive; you will find instructions for how to eliminate this problem on the same page as the peanut butter dip recipe.

The apples and dip were just a start of her baby shower menu selections!
She also offered the guests rustic mini apple galettes, completely decadent apple slices dipped in melted chocolate and frosted, apple shaped cookies. The decorated cookies were wrapped in cellophane, labeled with a cute tag that Haniela made with her new paper punch (the label had a personalized note from Rachel saying, "Thank you from the core of my heart") and presented to the guests as baby shower favors.
Now that we've had a peek at all of the beautiful decorations and menu ideas that Haniela shared; here's a view of the entire dessert table! Don't you just love the apple wreath on the rustic, burlap background?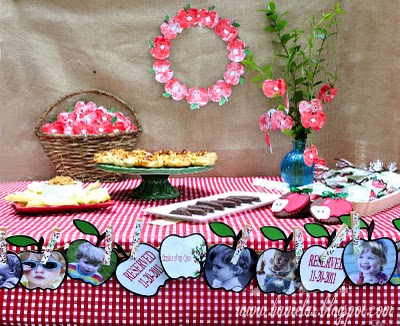 I would like to thank the amazing Haniela for allowing me to share her cute party with my visitors who stop by looking for baby shower and nursery ideas. My family also thanks her for inspiring me to cook something special for their supper tonight!