Fun Dr Seuss Horton Hears a Who Party Ideas
The Dr Seuss Horton Hears a Who movie has been a huge success and those of us of a certain age know that the books have been popular for many years. It's a fact that several generations have now considered themselves to have been the lucky ones to have discovered this clever storybook where the star is a big, goofy blue elephant and his friends.




However, this may be the the first generation to have boosted Horton and friends to modern day celebrity status. The credit may be the big screen and lots of advertising dollars, but I don't resent the promotions anymore than I wonder why kids don't know the history of this popular Dr Seuss book.
HORTON HEARS A WHO PARTY SUPPLIES and INVITATIONS
What I can appreciate is that Horton Hears a Who party supplies are cute and colorful and give me something new to work with. The
Dr Seuss Horton Hears a Who baby shower or kids birthday party ideas
will be red hot this year because lo and behold, the Dr Seuss characters have jumped from the pages of the books and have come to be designs on their own lines of merchandise. Their color pictures have been splashed onto party plates, cups, mylar balloons and personalized wall banners.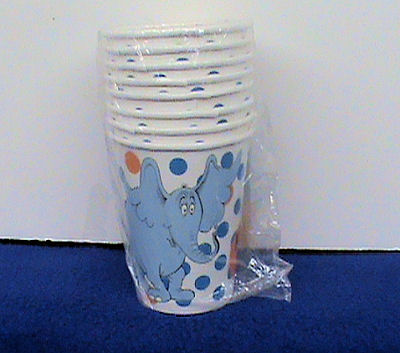 SEE MORE HERE
HORTON HEARS A WHO PARTY FAVORS IDEAS
There are cute Horton Hears a Who theme
Sheets of Stickers, Decals and Temporary tattoos
Pencils, Pencil sharpeners erasers and Notepads
Bubbles
Finger puppets
There's lots of inexpensive Horton Hears a Who merchandise that you can use fill those special goody bags for boys and girls. And you can fill the gift bags to the top because most of the items are really cheap: many less than a dollar apiece!
Return to Unique Baby Gear Ideas for more information on Dr Seuss Horton Hears a Who party supplies, gifts and baby bedding sets.