Ooooh La La Parisian Eiffel Tower Party Decorations Ideas and Invitations
Eiffel Tower party decorations bring all the charm and romance of a Parisian evening to your event with very little effort. Prop pictures of the Eiffel Tower on stands, hang twinkle lights, pass out the French berets to your guests and ohhhh La La; the party is underway.





There are a variety of color combinations to choose from for your Parisian baby shower or part as well as large, illuminated cardboard stand-ups to small Eiffel Tower vases, napkins and party favors. If you have a large venue to decorate you might actually save money by either making your own large Eiffel Tower out of cardboard or by buying a 10 foot tall black metal Eiffel Tower replica covered in twinkling lights.



A standup or a large archway fills a lot of space.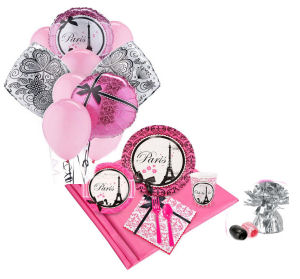 Go here to see more
party invitations and decorations for your French themed baby shower.


How to Make Your Own DIY Eiffel Tower Party Decorations for a Parisian Baby Shower or Birthday Party
Create your own illuminated Eiffel Tower stand-ups using cardboard. Visit the local appliance store and ask for leftover cardboard boxes that refrigerators were shipped in. Draw the Eiffel tower surrounded by an outline of the Paris skyline and add a few strings of twinkling lights. Voila! Perfection!
You might scour party supply stores as well as consignment stores for antique French streetlamps that complement your other French party decorations nicely, and a large Paris style arch. Fences, fake trees, and some strategically placed park benches are nice touches. There are background wall murals to give your party decorations a 3-D effect. There's a huge fireworks display mural and one of the Paris skyline to complete the picture. The archway is especially nice for proms. Couples can be announced and then enter the party through the arch way. Some helium filled Eiffel Tower balloons can be tied on either side of the Parisian archway for the best effect.
EIFFEL TOWER PARTY DECORATIONS - MEDIUM
For medium-size Eiffel Tower party decorations, you can purchase sculptured Eiffel Tower candles, or Eiffel Tower paper lanterns to use as table centerpieces. The Eiffel Tower paper lanterns are very affordable and carry the theme very nicely. Paris is the City of Lights so don't skimp on as many different lighting displays as your budget allows. Eiffel Tower candleholders, lanterns and hundreds of sparkling twinkle lights are called for. Eiffel Tower centerpieces can be surrounded with lots of votive candles and the twinkle lights can be hung on tree branches, the lamp posts and anywhere else that can be safely supported for additional lighting and affect.
EIFFEL TOWER PARTY DECORATIONS - SMALL
Small Eiffel Tower party decorations may be the most important. How can you have an Eiffel Tower baby shower or Parisian party theme without Eiffel Tower invitations? Eiffel Tower wedding invitations might be more formal but the Eiffel Tower invitations that we prefer to use to announce our parties come with a transparent envelope and parchment paper insert. The Eiffel Tower invitations can be printed beautifully and then some Eiffel Tower confetti cut into the envelopes. How festive for your guests to open their invitations to a shower of festive Eiffel Tower cutouts and confetti that accompany beautifully printed Eiffel Tower party invitations.
Other small items you will want to have on hand would be Eiffel Tower baby shower favors. Depending on budget you could give your guests small Eiffel Tower tea lamps or if you're looking for something cheap give them some of the same Eiffel Tower votive candles that decorated the tables. If you have a friend that will lend you some framed Eiffel tower pictures or posters to hang on the walls you might not need as many banners or balloons to fill the space which translates into free decorations!
Speaking of the tables, you will want some sort of Eiffel Tower centerpiece, as some Eiffel Tower napkins that match the Eiffel Tower invitations and a sprinkling of the Eiffel Tower confetti that you tucked into the invitations. All of these touches will tie your Eiffel Tower party decorations together into one very pretty continuous theme.
French Baby Nursery Themes and Baby Nursery Decorating Ideas
Return to Unique Baby Gear Ideas for more Eiffel Tower party and baby shower ideas.