Patriotic Theme Party and Baby Shower Ideas
The 4th of July holiday would be an excellent time for a Patriotic theme party or baby shower. We will give you some shower decorating ideas and gift suggestions that will give you some clues of the many ways you can use the red, white and blue color scheme and the stars and stripes to add excitement and a sense of pride to your shower decorations.


Patriotic Baby Bedding

Patriotic Pregnancy Portraits

Nurseries Decorated in Red, White and Blue


Any time that you can plan a party or shower around a holiday automatically expands your possibilities for finding abundant tableware and decorations for a cheap price. If a friend announces in the fall that she and her husband will join the ranks of enthusiastic moms and dads the next summer, take that as your cue to start planning a Patriotic theme party to shower her with cute stuff for the nursery.

Begin your search for elegant or informal Patriotic theme party invitations, supplies and decorations on the closeout tables where you can pick up some discontinued Patriotic theme plates, table decorations and wall banners left over from the 4th of July holiday at less than wholesale prices. To find some red, white and blue Uncle Sam stovepipe party hats at a cheap price that the kids could wear would be the frosting on the cake!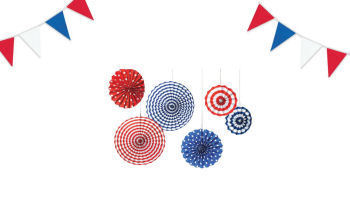 Go Here to See More
Some hostesses consider this scavenger hunt a little demeaning or feel that it might be insulting to their pregnant pal to see her friends doing their best to make the cost of her baby shower as inexpensive as humanly possible.
My argument against this notion would be that if any of my guests of honor ever had this thought cross their minds, it was quickly dismissed when they saw that I spent the majority of the Patriotic theme baby shower budget on a spectacular baby shower gift rather than paper plates and plastic cups that would be thrown in the trash at the end of the party.
DECORATING IDEAS
To spice things up, there are other themes that you can use in conjunction with a red, white and blue color scheme. After all, what's more patriotic than football, baseball or a dazzling fireworks display? In addition to your discount price patriotic party supplies that you bought, dig in your husband's trunk for some old sports trophies, baseball mitts, footballs and wall pennants that you can use to decorate the entrance to the party and the surrounding areas for FREE!
MENU IDEAS AND SUGGESTIONS
What could possibly be more American than a backyard Barbeque? A super idea to turn the party into a Jack and Jill Coed baby shower and bring the guys on board would be to meet them at the door with barbeque aprons with patriotic pictures and motifs printed on the fabric. They will be even more pleased when they discover that they get to keep the cool aprons as a party favor.
PATRIOTIC PARTY ENTERTAINMENT
Break out the roman candles, educate everybody on the fine points of fireworks safety and then let the fireworks shows begin. When planning your party and picking a venue, you may want to check the rules of your neighborhood where you will be entertaining your family and friends before setting off strings of firecrackers that might disturb the neighbors or wake sleeping babies. A visit from the local law enforcement agency will not add to the patriotic atmosphere.
Don't forget to have the capability to play some appropriate music for the occasion. A fireworks display takes on a whole new meaning with John Phillip Sousa's marching band playing in the background. If the children are restless have them march to the music and perform their own version of a 4th of July parade on the grounds.
Return to Unique Baby Gear Ideas for more excellent patriotic baby shower ideas for unique ways to decorate in patriotic themes.