Precious Moments Baby Shower Theme Ideas for Baby Boys, Girls or Either
The beauty of a Precious Moments baby shower theme is that it's appropriate for both baby boys and girls. PLUS, as you will see, there are lots of possibilities for various color schemes as well as interesting and creative themes.

PRECIOUS MOMENTS BABY SHOWER DECORATIONS

If you are a collector, as so many people are, would you feel comfortable using some of your less valuable figurines as centerpieces for the gift or guest tables?
If so, you will save a lot of money on floral arrangements and have plenty of cash left for personalized banners, balloons and a lovely gift for the guest of honor.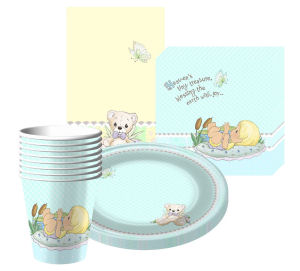 Go here to see more
party supplies and decorations in a Precious Moments theme for baby boys, girls or both!


Don't stop with choosing pink or blue; there are creative options for themes as well; keep reading!


TELL US ABOUT YOUR PRECIOUS MOMENTS BABY SHOWER!
Example: Do you have some decorating ideas? How did you decorate the cake? Would you like to share a poem or wording that you used for your invitations?

PRECIOUS MOMENTS THEMES and IDEAS
CHECK OUT THESE COOL IDEAS FOR PRECIOUS MOMENTS SHOWERS

Precious Moments Baby Shower Ideas

Here are some Precious Moments Baby Shower Ideas for a baby boy that I have been considering. I would like to send out Precious Moments baby shower invitations …
Once again, I will refer you to the official product line for inspiration. As an example, take a look at the picture I have provided of one of my favorite collectible pieces. This tableau tells me that a combination frog and Precious Moments baby shower theme would work if a gender neutral theme is needed or if a baby boy is expected perhaps you might give a fish pond theme some thought.
Hostesses also may want to put Precious Moments decorations in her list of Christian baby shower ideas. I have attended two shower for church friends that took place before Sunday School in the church recreational area. With one the theme was angels. The other was a Noah's Ark theme with Precious Moments decorations, favors and gifts used in decorating the Precious Moments baby shower theme.
COLOR SCHEMES
In case you are not already familiar with Precious Moments products you should know that this line of merchandise is primarily composed of powder soft pastel colors including but not limited to baby blue for boys, pink for baby girls and gender neutral colors of lavender, mint green and peach.
Appropriately colored tableware and decorations for a Precious Moments baby shower theme might present an excellent opportunity to use that eclectic inventory of solid color pastel plates and cups left over from celebrations in the past. Take your cues from the colors used on the ever popular collectible statues and experiment using green and lavender or peach and green plates, party supplies in conjunction with some licensed items to set the tone.

PRECIOUS MOMENTS BABY GIFT IDEAS
If the mother to be has mentioned a Precious Moments nursery theme, do a little detective work and determine which baby items or decorations she needs to complete her decor. If her baby's room is already complete with no need for additional decorations, an inexpensive gift might be baby clothes with either the little boy or girl featured in the fabric print or embroidered on the front of a onesie and a matching blanket. In a slightly more expensive price range would be an article of or gear in her chosen theme like a walker or a baby keepsake album.
If you have a moment I would like to hear your suggestions for Precious Moments baby shower themes or resources for cute, cheap baby shower supplies in this theme. If you have some pictures of your baby shower cake, party decorations or even the expectant mommy and her friends, you are invited to share them using the form that Unique Baby Gear Ideas has provided for that purpose.