Best Clothesline Baby Shower Ideas and Themes
One thing about clothesline baby shower ideas is that they are not only cute and lots of fun, but they help out with one of the most expensive parts of baby's first year, buying baby clothes and crib shoes.






Another great thing about this shower is that it relieves the stress of taking the time to put together an impressive looking gift basket or having to run to the store to buy gift wrapping paper, ribbons and supplies to wrap the baby gift.


You can either make your own baby shower invitations and decorate them with tiny baby booties, onesies or folded diapers or you can order personalized invites with pictures of baby clothes pinned on a clothesline on the front of the card. It's the invitation wording that is important to our clothesline baby shower ideas at this point.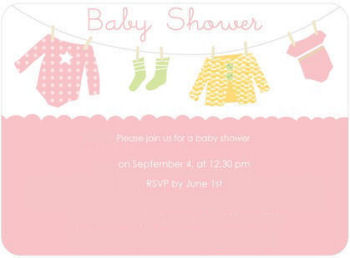 See More Examples Here
Inside the card, you can include poem with a verse or two about baby clothes. Here's an example of a clothesline baby shower invitation poem. You can change the wording to include your friend's name and add any specific requests:


Cute little baby clothes, precious as can be
A tiny hat and booties
For the sweetest babe you'll ever see
Bring (friends' name) some socks or diapers
She prefers the (disposable or cotton) kind
There's no need to wrap them up
We're going to hang them on the line!


Go to the laundry aisle of your local discount store and buy a cheap cotton clothesline and some old fashioned wooden clothespins. If you have a particular color scheme that you would like to use for your clothesline baby shower ideas, buy a package of fabric dye in the color that you need. As an example, pink for a baby girl or blue for a baby girl.


(TIP: before you dye the entire cord, test a sample to be sure that you get the color that you want).
Go to the crafts section and buy a can or two of spray paint in your colors so that your clothes pins will match your decorations as well.
Ask your guests to either deliver their gift to you a day ahead of time or have them arrive before the guest of honor so that you can pin the baby things onto your color coordinated clothes line and pin all the gifts onto the clothesline carefully loading them into one big beautifully decorated gift box.
When the mommy to be arrives have her open the box and start pulling on the string while passing it around from guest to guest allowing them to remove another section of clothesline bearing a cute baby gift out of the box, pretty soon you will have a chain of baby things all around the room!
This is such a fun clothesline baby shower idea that I just had to share it with you!
And if you have any ideas for a clothesline baby shower theme or pictures of your invitations, decorations or a poem that you'd like to share I'm sure the visitors that stop by looking for Baby Nursery Decorating Ideas and baby shower ideas would love to see them!
SHARE YOUR IDEAS!
Do you have a great poem, saying or special wording for a baby shower invitation? A game that you played at your shower? Tell us about it!