Let There Be Light Christian Baby Shower Ideas
Here are some baby shower ideas that will enlist the help of your friends to light up this precious baby's life from the very beginning. All newborns deserve to be welcomed into a world filled with harmony and light so I have developed some ideas for a baby shower in this theme that is very unique in that it can be the basis for a Christian shower, a coed shower or a silly shower for ladies only.

The basic theme of this party is the celebration of light. It will be up to the hostess to make her decision as to whether she would prefer to highlight a particular type of light. I've left lots of room to take the theme in a direction that's electrical or spiritual according to your preferences. The best idea might be to allow your guests to apply their own interpretation to the theme and let them be creative in their selection of appropriate baby shower gifts.
BABY SHOWER INVITATIONS
The baby shower invitations for this creative baby shower theme can be funny and asks for light that will help in keeping mommy and daddy from stumping their toes on those late night visits to the baby's nursery. You might consider inspirational wording for a baby shower with a religious Christian or spiritual shower with a poem about Jesus, Savior, and the light of the world. Some mention should be made in the wording or details that guests should choose their gifts that have to do with light.
BABY SHOWER GIFT IDEAS
Unless you don't mind your guests showing up with a lifetime supply of light bulbs, you might want to make some suggestions that fall in line with your lighting theme baby shower ideas. Our baby shower ideas are based on decorative lighting, emergency light sources or decorations whose purpose is to reflect light unless the hostess takes the shower theme in a more spiritual direction in which case religious items would be more appropriate.
Here are some suggestions for unique themed baby gifts to nudge our guests in the right direction:
Nursery night lights
Decorative switch plates
Table lamps
Crib mobiles with characters that light up
Personalized lampshades
If the shower is co-ed, a baby shower gift for daddy might be that emergency flashlight with all the extras like a compass and a radio to help with roadside or natural disasters. A gift for mom might be a mini-chandelier or a gadget that will project a light show on the nursery ceiling to entertain baby while bonding in the nursery rocker.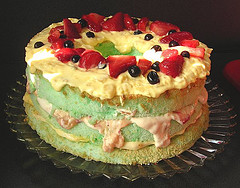 BABY SHOWER MENU SUGGESTIONS
In keeping with the rest of our lighting theme baby shower ideas, keep it light. Angel food cake with fruit topping and cucumber sandwiches are visually pleasing and leave your guests energized and ready to participate in whatever games you have in mind.
Return to Unique Baby Gear Ideas for more baby shower ideas.