Best Fun Monkey Baby Shower Ideas
A monkey baby shower theme is one of the most popular spin-offs of the broader jungle party theme. Perhaps the reason for putting the spotlight on monkey theme decorations rather than generic tropical ones is to reflect the style of décor that the guest of honor used to decorate the room that is waiting to welcome her newborn home.


You see, monkeys have become more sophisticated since parents (and decorators) discovered that babies are tickled and entertained by the sight of them. The purpose of this baby shower theme tutorial is to direct you toward monkey baby shower theme decorations, accessories and gifts that present our friends in the best possible light.

Adorable Monkey Invitations
The first order of business pertaining to your monkey baby shower is the invitations. There are plenty of ready made cards to pick from and before you make a selection check to see if there is a party kit that comes with all of the invitations that your party requires.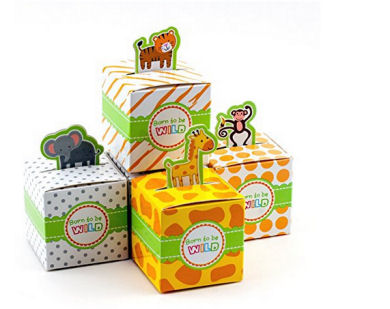 Go here to see
more ideas for inexpensive favor ideas and table decorations for your event.
Monkey Baby Shower Theme Ideas and Decorations
Shop for decorations that will create a jungle background for your party. Don't neglect to canvass your friends for free potted palms and ferns to surround the entrance and set the tone for your monkey baby shower theme. Once your greenery is in place, bring in the monkeys!

What Kind of Monkey Decorations?
A monkey is a monkey, right? Modern monkeys are much more unique and diversified than Tarzan and Jane's friend, Cheetah the chimpanzee. You can take your shower decorating efforts in the direction of:
Sock Monkey shower theme
Circus monkeys
Organ grinder's monkey
Monkeys and their rain forest friends
Peek a Boo Monkey Shower
Mod Monkey
Curious George
Decorating Ideas for Your Monkey Baby Shower

Monkeys of the Tropical Rainforest
Did you ever dream that there were so many possibilities for your monkey theme? Each one offers its own cool look and opportunities to show off your abilities to hostess a monkey theme shower with style. A baby shower with monkey theme decorations in a natural jungle or rain forest theme is probably the least challenging yet most satisfying in my opinion. You have the chance to draw attention to the creatures that live in the rain forest alongside the monkeys and show off your imaginative ideas for an eco-friendly green baby shower at the same time.
Curious George Baby Shower Cake Ideas and Party Decorations
A Curious George shower theme is a colorful and fun theme that will be very easy to style as shower decorations in this theme as well as monkey theme shower favors are readily available. Gifts for this theme are also very easy to locate since this cute little fellow is so popular that he has a large amount of merchandise that includes party decorations, bedroom accessories and clothing that take care of your color scheme and make shopping a breeze.
Please visit Unique Baby Gear Ideas again soon to see NEW nursery designs, crafts and baby shower themes and invitations.