DIY Baby Boy Nursery Room Decorating Ideas
We have some exciting NEW baby boy nursery ideas that anyone expecting a son with the slightest interest in decorating and décor will appreciate.
We have many DIY painting, sewing and crafts projects to help new parents design stylish room as well as boy nursery themes with murals and decorations that you can make yourself.
Please visit our gallery of nursery pictures to see if something strikes your fancy. There's no reason to copy a nursery design to the letter, but it's certainly alright to borrow a few boy nursery decorating ideas here and there. Take notes and bookmark the nurseries that you like. Make columns on the page where you can list the theme, style and/or colors that were attractive to you. Most parents begin to notice a pattern after making a few notations. Your personal decorating style will emerge and if all goes well, you will start to add your own unique ideas to the checklist.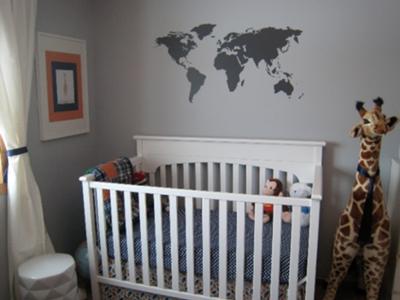 Baby Boy Nursery Pictures
The design of your child's room can be personalized in so many ways.
The word "personalized" should be stressed here since the style of décor in a baby's first room is a very personal decision. So, what ARE some of these stylish themes that are being used in baby boy nurseries right now and how do you go about choosing the best one for your son?
BABY BOY NURSERY THEMES
Remember when teddy bears and baby rattles were the traditional icons of a masculine nursery? There were really not a lot of choices for boys beyond these iconic graphics and baby blue gingham check fabric. Parents who have a special affinity for baby blue teddy bears will be happy to learn that they can still find boy nursery bedding collections in this classic theme. But truthfully, I can't tell you the last time I saw old-fashioned baby rattles and diaper pins used in even vintage baby boy nursery decor!
HOBBIES
Parents who are passionate about a hobby or favorite pastime dream of sharing the fun with their babies. Dads who love to spend time in the country, hunting and fishing are fond of rustic boy baby nursery themes. This design is reminiscent of hunting lodges and log cabins where patchwork baby quilts, homemade cribs and plaid flannel rule! Of course, not every parent hunts or loves to fish nor will a primitive nursery blend with every home's decor. There are also sports themes like baseball, football, basketball as well as golf, soccer and the list goes on and on! The bottom line is that your hobbies might inspire a few baby boy nursery ideas.
PROFESSIONS
Not every mom and dad is lucky enough to have an interesting, colorful profession worthy of becoming a nursery theme. But if you are a fireman, a policeman, an airplane pilot or an engineer on a passenger train, you should know that there are some really cute baby bedding collections in these themes.
STUFF BOYS LIKE
The nursery doesn't have to be all about mom and dad. There's not a baby boy on planet earth that wouldn't love to have a room decorated in snips and snails and puppy dog tails. Bugs, sailboats and pirates are also still rated very high on the list of stuff that baby boys like and for every item in the top 10 of that list, chances are that if you will put your mind to it that you can come up with a very cute theme for your baby boy's nursery. The bottom line is to create a room that is safe, fun and attractive. And you can find a way to say just a little something about the family that loves the little guy in the room I'm sure that he will love that, too.