Desert Cactus Baby Decor Western Baby Nursery Decorating Ideas
When looking for ideas for boys' baby decor western items always seem to catch my eye. A western nursery theme can be so versatile as well as the color schemes that can be used. Just like the Old West; these nurseries can be restful with shades of brown, tan and rust or popping and lively with bright shades of red, yellow and naby blue. My favorite fabrics for a western baby bedding set are vintage cowboy prints in earth tones reflecting old leather saddles, cowboy boots, hats and horseshoes.


This design brings the beauty of the cactus and colors of a desert sunset to mind as well as the occasional bleached cow skull.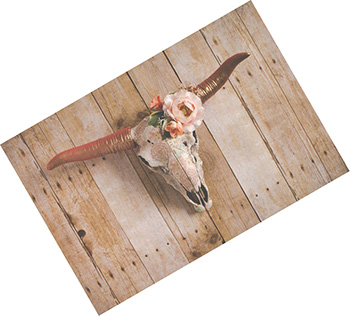 A carefully prepared cow skull crowned with a wreath of silk flowers fits perfectly in this theme. If you play your cards right and are willing to follow the instructions in our DIY craft tutorial, a cow skull can be very cheap wall decor.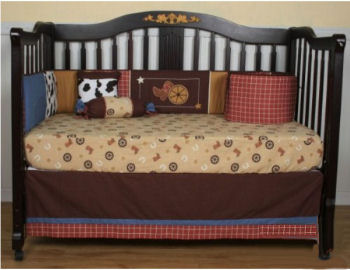 Go here to see more.
When it comes to baby decor western decoration for the nursery are so common that everything you would need to complete your western baby decor can be purchased at your local discount store or you can make your own rustic items including a pine log crib.
This baby cowboy's Western themed nursery has a homemade baby crib as well as rustic decorations made by his dad.
Every piece of nursery furniture was made by hand including the native pine log baby crib.

If you're game for a little scavenger hunt you may find some baby decor western as well as other kinds for free. Head out to the horse barn or to your friend's farm, you might pick up many western theme nursery decorations to match your western nursery bedding and baby decor for free.
Here are some decorating ideas so that you will know exactly how to create the perfect high desert baby nursery design with an old western cowboy theme.
Cowgirl and Cowboy Cribs

A little cowpoke's got to have a place to put his blanket and rest after a long day out on the wide open range wrangling his herd of cows. How fancy or plain you want the crib or bed to be depends on how rustic your baby decor is destined to be. There are luxury cribs in wrought iron with galloping horses and stallion heads on the crib finials as well as the headboard in the high end price range that would fit just as nicely in a camp house as in a pretty little cowgirl's room decorated with dainty pink baby decor.
If money's tight, here's one of my favorite decorating tips that will work with most any baby's nursery theme. Buy a cheap, used (recently manufactured with appropriate safety ratings) baby crib, give it a makeover by painting it to match your nursery's color scheme and stencil some western designs on the headboard and foot board. Heck, if you think it is safe, you might glue or nail some old horseshoes to decorate the bed.
Western Nursery Chandeliers and Cowboy Ceiling Decorating Ideas

Western chandeliers with leather cowboy boot bases and bandana print lamp shades are the perfect ceiling decoration as well as lighting based on bucking broncos or with the wiring strung through steer horns. A high quality nursery chandelier of this type will cost big bucks, so you might want to consider a ceiling fan in black and white cow print that would be more inexpensive.
Western Cowboy Rodeo Rugs for the Baby's Nursery


Your cowboy baby decor will need a western rug to cover the rough planks on the floor. The right cowboy rug will even dress up your polished hardwood in front of the crib. A round braided area rug, a rectangle rug with pictures of old time cowboys printed on it or a large cowboy and horse shaped rug would all be welcome additions to the western baby décor depending on the color of the cowboy baby crib bedding set and size of your nursery.

There are many suggestions and resources for baby decor western, southwestern and more on Unique Baby Gear Ideas. So, why don't you mosey on over to the main page and take a look at some of the pictures of western nurseries and bedding sets?
SHARE IDEAS - PICTURES of WESTERN NURSERY DECOR
Do you have a great set of baby bedding or a picture of a nursery that you decorated? Share it!
NURSERY PICTURES, IDEAS and SUGGESTIONS from our FRIENDS
Click below to see contributions from other visitors to this page...

American Western Nursery Theme

Our baby's American Western Nursery Theme has many pieces of rustic, homemade furniture and decorations that were all made by myself and my uncle. …
Cowboy Nursery Decor

I debated over whether or not to have cowboy nursery decor for awhile before making a decision because I didn't want one of those cheesy baby themes or …