Camouflage Baby Nursery Decorating Ideas, Bedding and Camo Baby Gear
There has been an explosion in Realtree and Army camouflage baby bedding,  and the use of camo baby bedding to enhance several popular nursery themes including hunting themes, military themes and other outdoor-sy designs.   
There is pink camo baby bedding for baby girls, blue camouflage prints for boys, drab green for Army babies and Realtree for babies whose parents enjoy hunting!
There are camo baby clothes and products for decorating the baby's nursery everywhere. Perhaps the most unique would be the pink camo baby bedding sets for girls! Yes, camouflage now comes in pink, blue as well as the traditional mossy oak and Realtree green camouflage. Camouflage fabric has been around forever, but the print has primarily been used to disguise soldiers in the military or hunters doing their best to outwit duck, deer or other wild game. And now...Realtree and Mossy Oak baby bedding and nurseries are all the rage!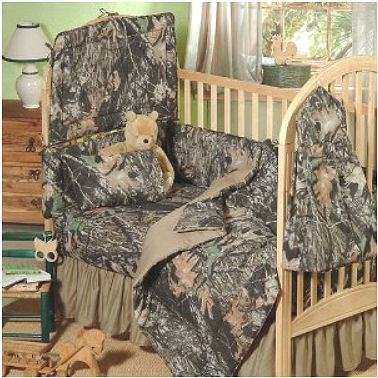 Camo Baby Bedding
in Mossy Oak, Realtree, Pink and Blue
In addition to nursery decor, we have camo outfits for baby boys and girls.
Dads will love dressing their baby boy in outfits that are made of the same Realtree or Mossy Oak camouflage fabric that they wear.
There are also girly pink camo baby car seats for little ladies and Realtree and Mossy Oak camo baby car seats for infants destined to follow in their daddy's footsteps in the great outdoors.
Infant car seat covers can be custom made to match your baby's stroller as well as his or her baby bedding set. For those who want just a touch of camouflage there are washable strap covers available.
Crafty moms often make more than one car seat cover so that there will always be a clean one available while the other is in the wash.
Men now have their pick of camo baby backpacks or messenger style diaper bags in camouflage print.
Another nice gift for dad would be a camo baby carrier.
Avoid back pain with a comfortable baby carrier with padded straps that Dad will be happy to wear.
A special baby carrier for dad would be a great gift idea for a couples baby shower. There are many types of baby gear that are now available in camouflage print that would be big hits that aren't that expensive including:
Camouflage Car Seat Covers
Camouflage pacifiers
Camouflage baby bottles
Please make plans to visit
Unique Baby Gear Ideas
again soon to find more camouflage baby items and nursery ideas. We add pictures of camo baby nurseries and articles with instructions for how to paint and decorate baby's rooms with camouflage that will be of interest to new parents as well as nursery decorating professionals on a regular basis.