Beach Baby Bedding
DIY Beach Theme Nursery Ideas
Here are some ideas for a beach theme nursery with baby bedding recommendations in ocean blue for a baby boy or colors perfect for a baby girl.  Beyond colors, the fabric patterns and decorations to consider for your decorating project can range from flip flops, sunglasses and bikinis to starfish, whales and dolphins. 

These are all colorful and acceptable beach themed items to feature in our seaside decorating project and the brighter the better.
For a baby boy's room there are surfboards for surfing themes, deep sea fishing gear and a set of dolphin crib bedding may be the way to go. The love of sand, surf, sunshine and the sea has brought forth a world of baby beach products and beach baby bedding is right up there at the top of the list! Pretty ocean theme bedding and ocean themed baby nursery decor is stylish and cool no matter where you live!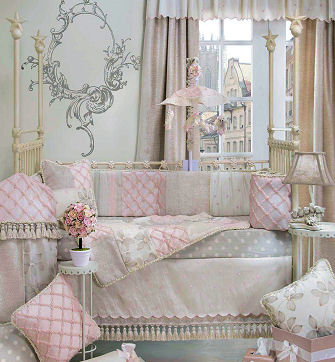 Go here to see more
There are plenty of beach crib bedding sets, art and decorations designed specifically for use in the nursery. But, we have ideas that will help you put your own unique spin on what's for sale in the stores or you can make your own bedding and nursery décor using the
nursery pictures
in our gallery for inspiration.
There are color schemes that mimic those in nature that remind us of the seaside views enjoyed while sunbathing. Pink and yellow are lovely together for a baby girl and for a baby boy's nursery the emphasis would be on blue.
MORE Beach Themed Nurseries and Decorations
Beach Nursery Wall Murals
Wall paint colors suitable for a beach nursery range from shades of white with cool or warm undertones, nautical blues and bright yellow. Take a cue from nature's palette combined with textures on the walls and nursery floors. Study pictures from popular baby magazines. Share photos and nursery decorating ideas with other moms. Pick up some tips for basic nursery design and then go shopping for baby bedding beach style or look for baby bedding with a surfboard theme!
Find nursery painting ideas and techniques by visiting the home improvement stores. Check out the local discount store for colorful beach baby products that you can use to accessorize! Paint and paste your way to a sunny, surfing kind of mood without having to get sand in your swimsuit! There are lots of ways to enjoy the calm color scheme and relaxed environment of a day at the seashore without the sunburn. Beach and baby surf bedding can get you there without leaving your home!
Boys surfboard themed bedding sets will brighten your child's room even in the cold of winter. The beach theme nursery chandeliers and matching baby nursery lamps take on a whole new look decorated with surfboards. The atmosphere is one of "just waiting until the surf's up and the water is warm enough" to catch a wave.
Whether you pitch a tent, bunk in a tropical tiki hut or have a luxurious beachfront cabana a beach themed room in your home can bring back fond memories of summer fun. A summer fun beach theme crib quilt can be bright and cheerful while providing needed warmth. I believe that's why children's beach bedding is so popular!
What kind of cribset is consider
BEACH
bedding? Well, anything that reminds you of a day at the beach will do. Dolphin crib bedding sets or baby fish theme bedding will fit right in! This is a very versatile themed room!
Here are some ideas and suggestion for how to build your tropical beach nursery around your beach themed baby bedding:
Stitch up some airy tropical style nursery window treatments to coordinate with your beach baby bedding using some colorful beach towels.
Choose floorcovering products to reflect sand and surf with a surfboard,seashell or scuba diving motif themed nursery rug.
Use a grass hula skirt to embellish a plain cornice board for a Hawaiian grass hut look
Display a few toy crabs,tropical fish or surfboards in the room in an organized way by placing them high on the wall in a fishnet.
No extra cash on hand for fancy seaside resort baby furniture? Get to the neighborhood craft store and buy a glue gun and some seashells. Now, go to work embellishing your plain old dressers and armoires with a beautiful crown of seashells and a seahorse or two. This is a decorative treatment that should be kept well out of baby's reach.
To find more ideas for decorating a beach themed nursery please check out our list of
baby nursery themes
where you will find many original beach themes for baby boys and girls.
Please browse the nursery picture gallery on
Unique Baby Gear Ideas
to find more DIY and craft ideas that add a unique and personalized look to any nursery design.