Best Baby Construction Nursery Themes Bedding and Decorating Ideas
Construction nursery themes are filled with dirt diggers, dump trucks, tractors and many other types of earth moving equipment. We have some decorating ideas for fabrics, wall murals and nursery rugs printed with graphics of roads where a boy can fill the hours playing and pretending with his toys.




Once the nursery bedding has been chosen many parents look no further than their discount store's toy section for colorful dump trucks and earth moving machines they can use as decorations for their kids' themed room until he (or she) is old enough to actually play with them!

Big Trucks Baby Nursery Ideas

Tractor Baby Bedding and Nursery Decor

Now's the time to display dad's collection of diggers and dirt moving monster trucks saved from his childhood on shelves and cornice boards over the nursery windows.


SEE MORE HERE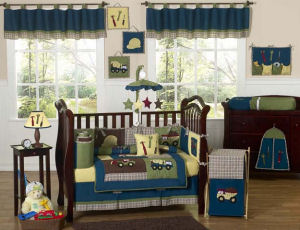 Consider nursery bedding sets with quilts appliqued with dump trucks and gears and mechanic's tools that keep them running.


Ivory window valances decorated with dump truck appliques make a nice topper over floor length curtain panels that complement a wall painted in primary colors of red or blue.
Decorating the Nursery Walls
Get wallpaper borders that match the colors and design of your construction nursery themes, have decals custom made or paint your own mural.
You might select a portion of your wallpaper's pattern to enlarge and use as a template for painting a mural on the nursery wall or use a combination of wall stickers and wallpaper border to create a focal point over baby's crib or near the seating or play area in the room.
A construction themed nursery rug will at first provide a soft place where your little one can take those first spills while learning to walk.
An area rug with roads and hills winding in and around an imaginary construction site will be a place where a child can spend many hours playing with toy cars and trucks.
Boys as well as girls will enjoy pushing tractors and dump trucks around obstacles and over hills.
The best paint colors to start with when painting the walls in your construction nursery theme will be a neutral dirt color! Think of the colors found on job sites that are digging out piles of red clay or sandy loam. Use the varying shades to layout your roads for your tractor trailers and earth moving trucks to travel on! Paint some landscape with green trees, houses and a cloud mural overhead to entertain baby while lying in his crib.
Here are some easy, DIY wall decorations:
Some wooden wall pegs with hardhats or rubber tools hung on them
Real constructions signs or ones that you have drawn yourself using poster board. Use some free nursery stencil ideas to personalize your road signs. Familiarize your baby boy with shapes using primary colored diamonds, triangles and squares. Stencil your baby's birthday, name or other personal information on each one. If you have more than one baby or if you are blessed with twins, use this decoration to identify each child's crib.
Your construction nursery theme can evolve into a big boy's bedroom with very little effort on your part.
This may be just the time to bring the toys previously used for display only down to a hands-on level. Always be sure that only age-appropriate items are accessible no matter what your child's age. Baby's Bob the Builder toys can be both entertainment and decorative construction nursery theme accessories!

To find more tips on decorating many original construction nursery themes, please visit us again soon to find many baby nursery decorating ideas in the latest color schemes.
SHARE IDEAS - PICTURES of CONSTRUCTION TRUCK NURSERY DECOR
Do you have a great set of baby bedding or a picture of a nursery that you decorated? Share it!
NURSERY PICTURES, IDEAS and SUGGESTIONS from our FRIENDS
Click below to see contributions from other visitors to this page...

CONSTRUCTION TRUCK THEME BABY NURSERY Not rated yet
Our baby boy's construction truck theme baby nursery reflects his daddy's interest in anything to do with the subject of building. Be it building roads, …