DIY Baby Moon and Stars Nursery Theme Painting, Crafts and Decor Ideas
We have lots of baby moon and stars nursery ideas including some DIY projects, wall painting and crafts ideas for décor that you can make yourself to enhance this popular theme.  Baby crib sets with a moon and stars design are the inspiration for many popular gender neutral or unisex themes.
. However, you can easily locate some items in the hottest colors that are clearly for a baby boy like blue and brown or blue and yellow as well as inspiration from other sources.
The inspiration to design a space that reflects the peaceful atmosphere of the night sky comes from many popular children's books such as "Goodnight Moon".
This white and light baby blue nursery has a clean, modern look that is peaceful and relaxing.
The concept of the mural was designed by artist, Patrice Hoban.
Rooms like these are proof that every mom-to-be with a desire to include silvery
moon and stars baby nursery decor
in their little one's room is not a hippie with a taste for celestial designs. Parents have discovered the natural beauty and peace that comes from basing our nursery decorating ideas on scenes from nature. Shining stars, moons and planets are very easy to work into baby's nursery decor through the use of some easy nursery wall painting techniques.
The neutral color scheme of a white, paper mobile with origami stars will last through many room makeovers and paint color updates.
If your crafts skills include origami; you can easily make your own star crib mobile for a few dollars or less!
Printable quotes are not only FREE, they are lovely when framed and make a very nice star themed nursery wall decoration that you can make yourself using very few crafts supplies.
Add traditional nursery motifs like rabbits and fluffy teddy bears by simply painting pictures of a peacefully sleeping bunny or a bear taking a nap on the moon. There's no end to the many other charming pictures you can blend with this classic baby decor.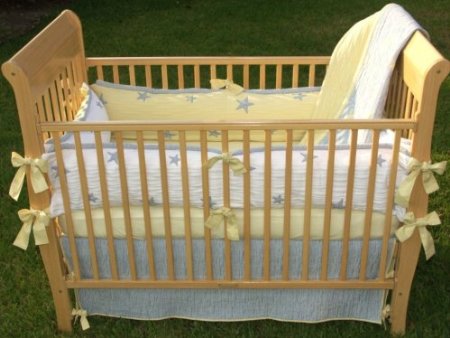 Go here to see more
moon and stars crib bedding and decor for your decorating project.
Once you have found a baby bedding set with the color scheme that you need, it's time to complete the surrounding nursery decor to compliment it. If your fabric print consists of a palette filled with pastels, traditional colors for infant rooms, then your wall colors, window treatments and nursery rugs should follow suit with not only the same pattern but colors that will complement.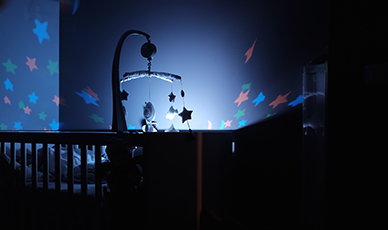 Custom Planets Ceiling Light
Shabby chic moon and stars nursery ideas shared by a French decorating master.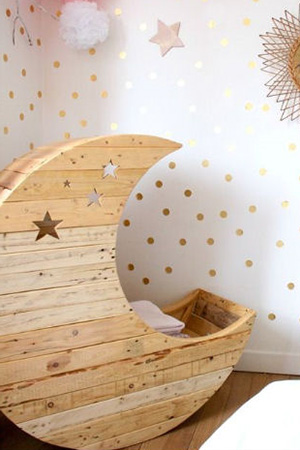 Moon and Stars Nursery Ideas
MORE Moon and Star Baby Nursery Ideas
Sesame Street Moon and Stars Baby Nursery
Moon and stars baby bedding with a contrasting blue plaid fabric for a baby boy can be very interesting and imaginative. The additional plaid print and colors can help to expand your list of nursery decorating ideas!
With deeper shades of midnight blue and primary yellow moon and stars, you have the option of including bold colors with your baby moon stuff. With bright yellow stars scattered on a dark blue background, why not feature a few of the planets with your baby moon?
Would you like to know how make your own nursery ceiling mobile that features planets floating in the center of your baby's universe using little more than clear, nylon fishing line, wooden embroidery hoops and yarn?
SHARE IDEAS - PICTURES of Moon and Stars Nursery Theme Decor
Do you have a great set of baby bedding or a picture of a nursery that you decorated? Share it!
NURSERY PICTURES, IDEAS and SUGGESTIONS from our FRIENDS
Click below to see contributions from other visitors to this page...

A focal wall painted a deep rich blue with a painting of a shooting star firing its way across the sky would be so unique and eye-catching! This is an opportunity to display a realistic picture of the universe that can't be seen with the naked eye. Bring a special baby moon, stars and some planets up close and personal into the nursery theme with some planet wallies! You won't need a telescope to begin baby's planetary education regarding the magic of nature at a very young age!
For a very celestial and airy feel there are some sheers that are embroidered with quarter baby moon and star motifs. There's no rule that says you have to hang these over your windows. You can also use them to make a dramatic canopy at the head of your baby's bed. You can get the same look by using a mosquito net canopy. You can get a glow in the dark canopy with stars that glow when the lights are turned out that are so cute! This reminds me of frothy clouds floating over the moon on a dreamy summer evening and the glow in the dark stars are just an added decorative bonus!
If celestial or universal education is not your decorative goal, then just hold on, there are loads of other ideas and baby gear to complete your baby moon nursery decor.
While it's always a good idea to balance the themed decorations in a room, that's not to say that you must repeat your motifs over and over. Think about it. The moon and stars exist in conjunction with all aspects of Mother Nature and all that she encompasses. You could have baby moon and stars applique baby quilts with a nursery rhyme mural or wallpaper. There are some great wallies or wallpaper cut outs depicting the classic cow that jumped over the moon.
If you plan to use a night light or a monitor, why not get one that will be an asset to your themed bedroom! There are clever
decorative baby gear items
of this sort that project beautiful patterns of the moon and stars onto the nursery walls and ceiling! This is basically an all in one rotating sun moon star lamp! The gadget plays music that can be a background for your lullabyes and baby songs. There are also monitors that make nature sounds which are perfect for getting baby to sleep. If you want something more permanent, an antique art deco style moon and stars wall lamp would be very pretty and in keeping with the room theme.
The Mickey and Minnie Mouse Nursery theme has primary colored stars on the nursery walls and as hardware on the nursery furniture. There are also some Teddy Bear baby bedding sets that have a moon and star background that you might want to consider!
There's no need to grab the first pattern you see, even if it's really cool! Wait until you have several choices and
THEN
see which you prefer. Another thing, changing and updating this theme to keep it current and fresh is a piece of cake! Whether you choose to have a focal rocket ship or a cow jumping over your baby moon, have fun and make it unique.
Go to the homepage for more
Unique Baby Gear Ideas
for your moon and stars nursery decorating project.