Best Baby Baseball Nursery Theme, Bedding and Decorations
The baseball nursery theme ideas that we have on this page will appeal to moms and dads expecting a baby boy as well as sports fans expecting a baby girl. We have baseball themed nursery pictures featuring create DIY decorating ideas and crafts that will keep you busy throughout the pregnancy and save you money on décor for the room.



Visitors Shopping for Baby Baseball Nursery Items Also Enjoyed these Pages:

Baseball Baby Nursery Art

Baseball Rugs for Kids

Baseball Baby Fabric



Some parents prefer that the decorations have a modern look and feel but if you were wondering how to decorate a vintage baseball nursery, take a look at the pictures of baseball baby rooms in our gallery and prepare to be amazed at the designs that have been created by real moms and dads!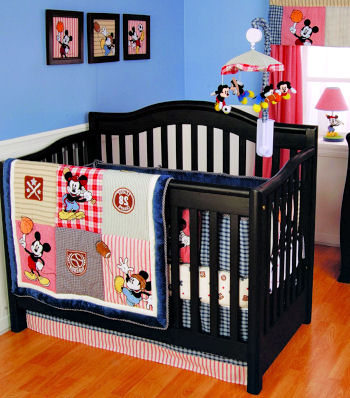 Mickey and Minnie Mouse baby baseball nursery bedding sets for your boy or girl's crib!
BASEBALL BABY NURSERY DECOR and ANNOUNCEMENTS
SHARE IDEAS - PICTURES of BASEBALL NURSERY DECOR
Do you have a great set of baby bedding or a picture of a nursery that you decorated in a baseball theme? Share it!
BASEBALL NURSERY PICTURES, IDEAS and SUGGESTIONS from our FRIENDS
Click below to see contributions from other visitors to this page...

A baseball theme may be one of the best baby boy nursery themes out there as you will get a lot of decorating mileage out of a sports themed bedroom. This type of decor can evolve very easily from serving as a baby's nursery to a growing boy's bedroom. Simply change the crib to a toddler or youth bed and you're in the game. Not to mention that baseball is as American as Mom, Apple Pie and the Flag!




Another decorating idea that you might consider when shopping for your baby's baseball nursery theme is Snoopy's baseball bedding. This cute crib set will kick off a nursery theme that is both fun and a classic right out of the Sunday morning comic strip featuring the famous Peanuts puppy dog, Snoopy! Yes, Charlie Brown's pal now has his very own line of baseball baby bedding and accessories in baseball print baby Snoopy fabrics. Baby Snoopy sport bedding may be a perfect fit for your baseball nursery theme.
Baby Snoopy baby baseball crib bedding sets are available in colorful sports themes and designs ready to decorate kids baseball bedrooms in fine style.
The Baby Snoopy Sports line features the beagle with baseball cap and glove in baby boys nursery colors. There's a Snoopy sports theme lamp, crib set and a coordinating mirror with handy wooden wall pegs for displaying a brightly colored cap or two.
If Snoopy isn't your favorite player, maybe you're a Yankees fan and a more specific baby baseball nursery theme is in order. If so, check out the New York Yankees Wallpaper Border or the wallpaper that sports whatever official logo of the team you love! A classic approach to this particular style of decor is to use neutrals everywhere saving the use of busy sports patterns for the sports theme bedding, accessories and nursery window treatments. Greens and browns resembling the baseball stadium itself are a great color scheme unless you have some team colors you want to go with. Painting a wall is easy, but be aware that changes to your nursery walls are much more complicated if you have opted for a particular sports theme nursery wallpaper or nursery furniture.
Your football loving husband may decide that his baby boy has a really mean kick and decide that soccer will be their game of choice. Just slip in the nursery while they are out for a stroll, pick up all the football souvenirs, trophies and memorabilia and replace it with Beckham pictures on the walls.
For more of your favorite sports featured in your baseball nursery theme, try some stenciling, mural painting or the removable fabric motif wall technique done with laundry starch. All very visible patterns with very little money or work. And no need to feel that you have to get years of use out of your baseball nursery them as all techniques are easily changed with baby's tastes in nursery decor.
Here are a few tips for baseball room decor:
Decorate a toddler table as a round baseball using black or dark brown paint for the stitching on the baseball. Paint the kid size nursery chairs your favorite team colors.
drawer pulls or hardware in baseball with your baseball theme
Make custom nursery switchplate covers yourself
Baseball Theme Window Treatment Ideas:
Use baseball bats as your window treatment rods
Take stock curtain rods, hang baseball mitts on each end to frame your drapery
Glue old vintage looking (or new if you prefer shiny clean)baseballs to the ends of your curtain rods as sports finials
Celebrate the history of the game with your child! Begin by building your budding baseball fan a collection of ceramic baseball statues or figurines featuring the old time classic baseball stars. Or get the whole family involved by choosing some baseball crafts that you can enjoy doing with your baby's older brother or sister. A baseball coloring page colored by your toddler and framed will make him or her feel included in the nursery decorating process.
Baseball Nursery Theme Wall Treatment:
paint a mural of spectators in the stands cheering for their team
Hang baseball team banners
Paint a shelf and hang a row of favorite baseball team caps across it just for show

Baseball Nursery Theme or Sports Theme Accessories:

Baseball Lamps
Baseball Clocks
Baseball Ceiling Fan or Nursery Chandelier

Baseball Wall Ideas:

Baseball Posters
Baseball Cards in a Shadow Box

Before you leave, please bookmark our website and tell your friends about our creative baby nursery ideas so that they will know to drop by to get tips for decorating their baby's room in a sports theme.