Cute Sesame Street Baby Bedding for the Nursery
The basis of any successful nursery design starts with baby bedding in your favorite theme. Here are some decorating ideas for a classic baby nursery theme that will use your Sesame Street collectibles to highlight a set of Sesame Street baby bedding. This is your opportunity to showcase your Sesame Street collectibles that you saved from your childhood!




It's easy and fun to design your newborn's nursery around a set of baby bedding with a Sesame Street characters print. You have the option of a color scheme in bright yellow, blue and green by using the stars of the show, but there are fabrics that have pastel colors if you like a softer look.
COOKIE MONSTER BLUE and BIG BIRD YELLOW
My mom's favorite puppet was Cookie Monster, so she made him the star in my electric blue
Sesame Street nursery
. My favorite is Big Bird So, I developed my little one's nursery decor in the bright yellow colors found in my Big Bird print fabric that I made the baby bedding from. I was very please with the results only to find that her favorite character is Ernie.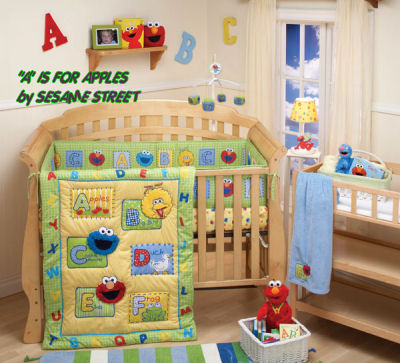 SEE MORE HERE
Burt and Ernie Nursery Pictures

NEW Sesame Street Baby Bedding Sets

Sesame Street Nursery Wall Mural Pictures



OSCAR THE GROUCH GREEN
If your baby loves Oscar the Grouch, there's no need to buy expensive baby Sesame Street decorations for your baby's bedroom. Buy a cheap galvanized tin trashcan and distress it with a hammer so that grumpy old Oscar can have a place all his own. The trash can will be cute and can pull double duty as a nursery laundry hamper.
GENDER NEUTRAL THEMES SESAME STREET STYLEThe primary colors are a classic and perfectly appropriate for either a baby girl's nursery as well as a baby boy's themed room. The urban neighborhood setting as well as the characters indicate no definite gender. So, if unisex decor and a primary color scheme is what you are looking for, a Sesame Street nursery theme may be perfect for you.
ROOM DECORATIONS and ACCESSORIESThis is such a fun nursery theme where babies can play without having to worry about breaking fancy decorative items or hurting themselves. Load baskets with lots of soft Sesame Street stuff that baby can drag out and play with that are decorative as well as entertaining. Baskets of plush stuffed animals and Sesame Street rugs will give you lots of excellent decorating ideas for your nursery and provide your little one with a soft and colorful place to play. Please visit our nursery picture gallery to find more Sesame Street nursery ideas to use as inspiration for your decorating project.