Peter Rabbit Nursery Ideas Featuring DIY Peter Rabbit Nursery Theme Decor & Wall Mural Painting Projects


Our Peter Rabbit nursery ideas are as timeless as the popular storybooks that inspire this , a popular nursery theme for a boy.  The DIY decor, wall painting tips and bedding sets shine a spotlight on the beloved character featured in the Tales of Peter Rabbit by Beatrix Potter.  This well-known bunny is at the heart of one of the most popular nursery themes for baby boys and the pictures on this page shared by our visitors prove that this classic theme is still going strong.   
We have a fabulous DIY wall mural to share with you that was painted by a talented mom and dad who dedicated themselves to the creation of a unique design so that their baby boy's nursery would not be "common". As you will see; they truly surpassed their decorating goals.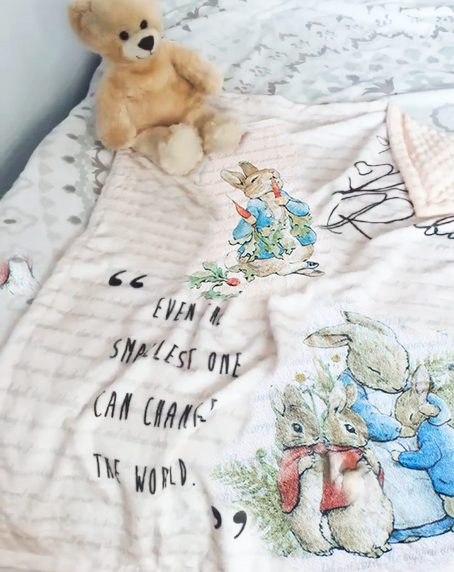 toys and decorations to inspire the color scheme of your Peter Rabbit nursery ideas.
Regardless of the inspiration piece that you choose, you can find fabrics and furniture to suit your taste whether you want to decorate in a vintage style or modern.
The large, forest theme wall painting in the example above is impressive but the project may be more than many DIY ers would want to tackle.
A collection of Beatrix Potter nursery wall decals would be a quick way to create a mural and if you happen to move anytime during baby's early years the decals would be easy to remove and relocate.
Most decorators, both DIY decorators and professionals, start the decorating process by choosing a crib bedding set to use as a starting point for their Peter Rabbit nursery ideas.
A parent might include other storybook
characters of the Tales of Peter Rabbit
in the nursery decor.
We often see Peter Rabbit accompanied by Jeremy Fisher in a baby boy's nursery room.
There are many, many characters that can be included in a
Beatrix Potter Nursery
from squirrels to the goose, Jemima Puddleduck, and many more.
How to Make Your Own Peter Rabbit Baby Bedding and Wall Decorations
You can make your own curtains and crib bedding with a few yards of Peter Rabbit baby fabric.
There are fabrics that can be used to make your own nursery curtains that have coordinating fabric panels to quilt and sew for wall hangings.
Check out the Peter Rabbit Nursery Pictures Below or Share Your Own
Do you have a great set of baby bedding or a picture of a nursery that you decorated in a Peter Rabbit theme? Share it!
I hope that the tips that you have found on
Unique Baby Gear Ideas
will inspire you and help you get started decorating your baby's Peter Rabbit nursery room.