Baby Firefighter, Fire Truck and Fireman Nursery Theme Decorating Ideas
This is the best place to get ideas for decorating a fireman nursery theme for your baby other than a trip to your local firehouse.  We have tips for lots of ways to use the Dalmations, fire trucks as well as the equipment that firefighters use on a daily basis in your decorating project where everything from the red color of the fire engines to the polished brass hardware and fittings can be used to enhance the décor of your little one's room.
The firemen in our country are fearless, heroic and respected for the sacrifices they make in doing their jobs.
Imagine the thrill of a fire truck racing through town carrying firemen and their dogs to the scene of a blazing fire.
The colors and icons, more than the excitement, are what we want to reproduce in the baby's room.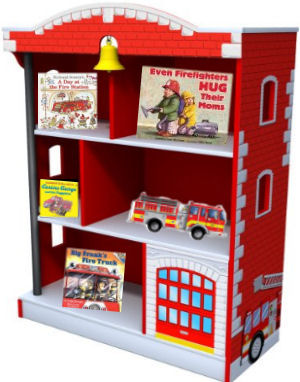 Go Here to See More
No wonder the fireman nursery theme has worked its way to the top of the popular nursery themes list, especially since 9/11. To miss an opportunity to honor these heroes would be a shame.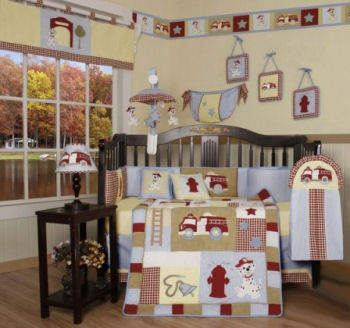 Fire Truck Baby Bedding
When shopping for the best fire truck baby bedding for our decorating project, fire engine red always comes to mind.
A mixture of red and white polka dots and fire engine nursery decor makes a pretty picture.
But with the abundance of bright red fireplugs and other decorative items, black and white Dalmation print baby crib bedding may be a better choice for cooling the color palette given all the bright red on display in the room's decorations.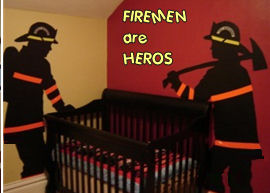 Fireman Nursery Décor Ideas
Other decorative items to consider would be vintage fireman helmets and a fireman's ladder. The steps of the ladder can be used as a shelf or a place to organize the baby's stuffed toys or clothes. There is no need for the fire truck baby bedding set and room decorations in your fireman nursery theme to be bright red although there is certainly room for that color in our design. In fact, I like the idea of a fire engine red baby crib in the nursery with a fireman's black rubber coat hanging by the door on a wall peg or rack of some sort.
Fireman quotes incorporated into art make excellent nursery wall decorations.
BRASS BELLS and FIREPLUGS
Brass fixtures were common in the old days at the stationhouse. Pay a visit to some antique stores or shop online for a vintage brass fire alarm bell (you may want to remove the clapper for the sake of your sanity after the baby gets old enough to ring the bell) or a brass fireman's pole!
With any luck, you may be able to salvage an old fashioned fireplug and use as a decoration in your firehouse nursery theme! Sandblast it and repaint it with bright red nursery safe paint to polish it up. I've seen a few fire plugs dressed up with painted clothing and faces! However, if you're going for the traditional look there is no better color for a fireplug in your fireman nursery theme than solid, bright red.
DECORATING WITH DALMATIONS
Arrange some big black and white stuffed toy Dalmatians around a painted wall mural featuring your recently acquired fire hydrant and some trees. Then place a fireman or fire truck nursery rug on the floor that's in the shape of a fireman's hat, a Dalmation, a fireplug or fire engine.
Those are just a few accessories and ideas to commemorate our dedicated heroes and public servants, the firemen. Please make plans to visit
Unique Baby Gear Ideas
again soon to see more fire truck
nursery ideas for baby boys
, crafts, baby shower themes and pictures that will be of interest to all new moms and dads.