Cute Baby Dinosaur Nursery Theme and Decor Ideas
Here's where to find everything you need for your baby's dinosaur nursery from cute baby dinosaur products that are for sale in the baby boutiques to pictures of unique wall murals and wall art. And of course we will kick it all off with some dinosaur baby bedding to give us some ideas on the best color scheme for your decorating project.


Dinosaur Baby Crib Bedding
Baby Boy Nursery Themes
Boy Nursery Ideas
Baby boys (and their dads) tend to prefer and gravitate toward the ferocious side of these prehistoric creatures ala Jurassic Park. However, a room filled with giant, hungry lizards may not be your idea of an ideal nursery theme or decor.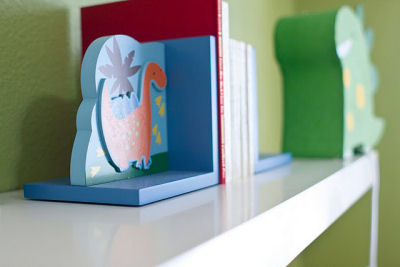 Dinosaur Themed Nursery
Decorations for shelves like these bookends add color and interest to a baby boy's room. Consider venturing outside of the baby boutique to visit your local discount or school supplies store for decorative items with educational value.
Go Here to See More
Lucky for those of us that prefer the giant creatures that we include in our dinosaur nursery theme to be cute and friendly there is Barney who is very cuddly and with a line of products that come in a very stylish and appealing shade of purple and green. And for a baby girl's dinosaur room, you might consider decorating with Dorothy the Dinosaur dressed up in her pink ballerina tutu and ballet slippers. Most dinosaur theme nursery bedding sets offer curtains and matching accessories but you will want to personalize your baby's first room with some decorations of your own choosing.
DECORATING BABY'S NURSERY in a DINOSAUR NURSERY THEME
Once you have your crib set you can move on to the other decorative aspects of your dinosaur themed nursery. Before you start to arrange the dinosaur nursery furniture and make the crib, you should take a look at the nursery walls and decide what action to take. Will the existing wall color work with the colors in your dinosaur bedding? Would you like to hang some wallpaper or a wallpaper border? When the walls are ready you might consider placing some dinosaur wall stickers.
After you have the walls decorated and the furniture placed as you like, you might consider buying a table lamp that will cast a softer light than the ceiling fixture and a dinosaur rug to soften your footsteps for those 2am feedings and diaper changes.
Return to find more dinosaur baby nursery ideas and educational items that you might use to decorate your baby boy or girl's room in prehistoric style.
SHARE IDEAS - PICTURES of DINOSAUR NURSERY DECOR
Do you have a great set of baby bedding or a picture of a nursery that you decorated in a dinosaur scheme? Share it!
DINOSAUR NURSERY PICTURES, IDEAS and SUGGESTIONS from our FRIENDS
Click below to see contributions from other visitors to this page...

Baby Blue, Green and Brown Dinosaur Themed Nursery

Baby Oliver's baby blue, green and brown dinosaur themed nursery was once Mom's scrapbooking room but there is not one shred of evidence that this was …
Ideas for a Dinosaur Baby Nursery Not rated yet
Here are some craft ideas for a dinosaur baby nursery including a DIY wall art project that will take care of needed wall decorations. And the beautiful …
Dinosaur Wallpaper Not rated yet
I found the perfect dinosaur wallpaper that showed the dinosaurs as they would have looked in prehistoric times. The pattern showed their bone structure …