Baby Harley Davidson Motorcycle Nursery Theme Ideas
These ideas for decorating a motorcycle nursery theme will interest Harley Davidson lovers or bikers who love their Harley.  But with some tweaking of fabrics and a set of custom baby bedding, you can easily make this nursery theme work for Honda, Suzuki, Yamaha motorcycles.
While daddy is checking out the bikes at your local Harley dealership you can find time to ask the clerk, "Where can I find the baby gifts or motorcycle stuff for kids?
Maybe if enough people ask, they will finally put out a licensed comforter set for babies, toddlers or "kids" of all ages! Meanwhile, gather up all the motorcycle baby toys and other motorcycle themed collectibles you've got and use them to decorate your motorcycle baby room!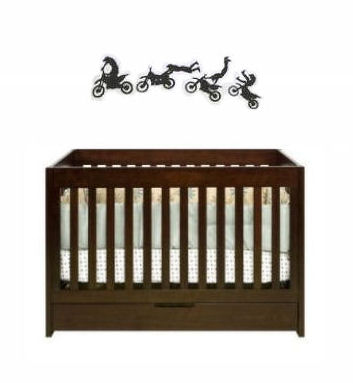 Motocross Nursery Theme Ideas
Motorcycle themed decals are an inexpensive way to decorated the baby's nursery walls.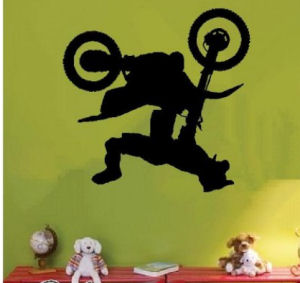 Motocross Decals for the Nursery Wall
I have not found a licensed Harley Davidson baby bedding set to use in your decorating project. For the time being a custom made crib set of Harley boys motorcycle bedding may be the best route to take. Choose the best motorcycle print fabric for your Harley Davidson motorcycle nursery theme and back it with a solid. Another option might be to get some Harley Davidson motif fabric and make a duvet cover as a temporary fix.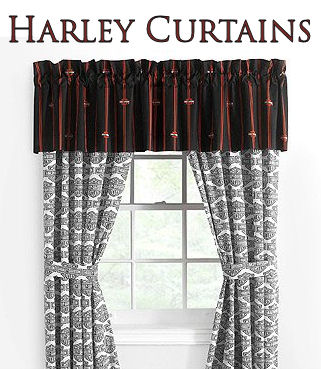 If you want to really decorate in authentic Harley Davidson colors or logos, black and burnt orange fabrics will work fine. There are flames printed on decorator fabrics in coordinating colors and the traditional Bar and Shield logo that can be used to make your own curtains and crib set or for furniture upholstery.
Go here to see more
You might display a few motorcycle items in addition to black wrought iron lamps and picture frames. Flat black items will work well with all the tribal flames, motorcycles and other biker gear that you want to display.
Wooden wall pegs will allow you to hang some leather chaps, biker jackets with your club patches and a cap or two to bring an authentic clubhouse atmosphere to your motorcycle nursery theme.
If you have Harley collectibles, this is your chance to display them in style! How many times in a motorcycle enthusiast's life does he have the luxury of an entire bedroom decor devoted to his passion? Plus, there is always the cool thing going on with the baby biker too!
Whether your personal favorite is Japanese imports or V-Twin engines, remember baby's safety in his rooms is a primary concern. Use caution when selecting decorative items and make certain that the ones that he can reach are baby safe. For instance, the small engine parts on many motorcycle collectibles would make them unacceptable as table top decorations in a nursery.
A Harley Davidson rug or any Motorcycle themed rugs with the Harley colors and logo make super biker nursery decorations. This is one nursery theme where the baby discount store will not be the best place to shop. This is a theme that will call upon your creativity and love of cycling to bring it all together with success.
When your baby boy or girl grows up there will be road trips to take and chrome to install, but don't wait till then to begin educating your child to the pleasures of roaring down the highways or shopping for
used motorcycles for sale
online as a family.
Return to see more of
Unique Baby Gear Ideas
' motorcycle baby nursery ideas and tips for how you can decorate a cool motorcycle nursery theme for your baby boy or girl.